NORTH End: Intersection, IA 10 E/10th St. and IA 10 W/E Ave., Hawarden, Sioux County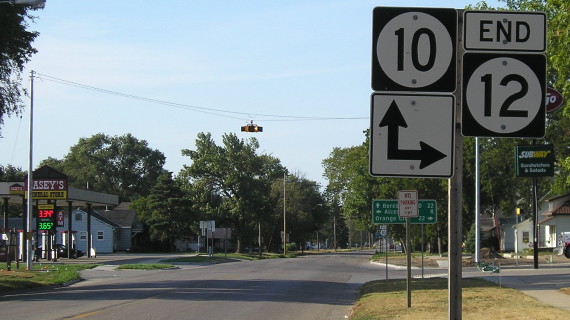 Facing north on 12 (7/20/12)
North-south traffic doesn't stop, so one can go straight ahead into 10 (and South Dakota) without stopping.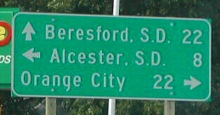 Facing north on 12 (6/18/02 and 7/20/12)
Left photo by Neil Bratney
There is a connection to Alcester although the map does not show it. There are only a handful of signs in the state where out-of-state destinations outnumber in-state ones. Beresford is only a mile east of I-29.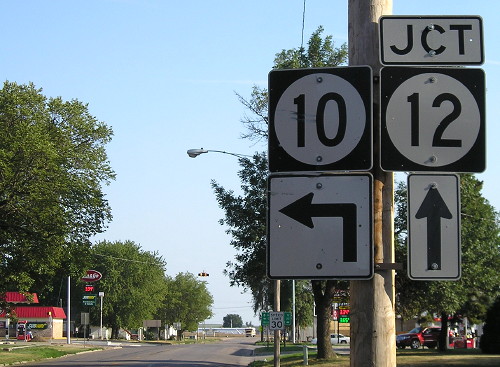 Facing south, but heading east, on 10 (7/20/12)
In 2002, this assembly had its own pole and didn't have a "Jct" above the 12.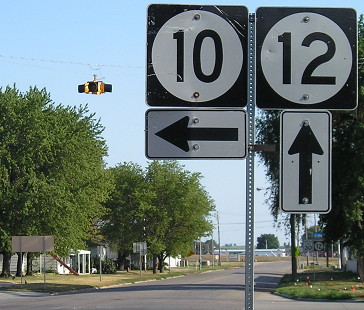 Facing south, but heading east, on 10 (7/20/12)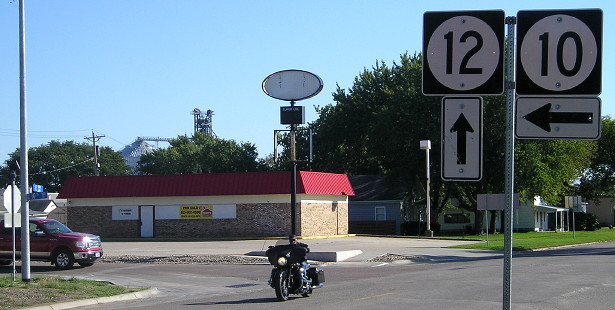 Facing south, but heading east, on 10 (9/30/15)
The new Casey's at this intersection (more on that below) must have done in the Kum & Go here. Note that the overhead flashing light is gone.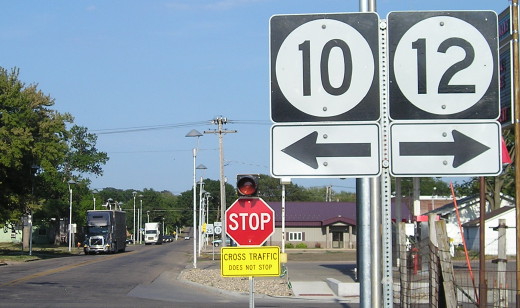 Facing east (7/20/12)
When you cross into Iowa from South Dakota, a fraction of a mile across the river you come to this intersection. Pay attention to the sign visible just left of the stop sign. The fact that 10 goes straight ahead from this viewpoint is ignored by this assembly - which is somewhat ironic because, if you follow this sign, 10 goes ... back into South Dakota. A straight-ahead-only arrow would make more sense here than the left-only, let alone being accurate with the left-and-ahead. (This signage error also existed in 2004.) UPDATE: They fixed it: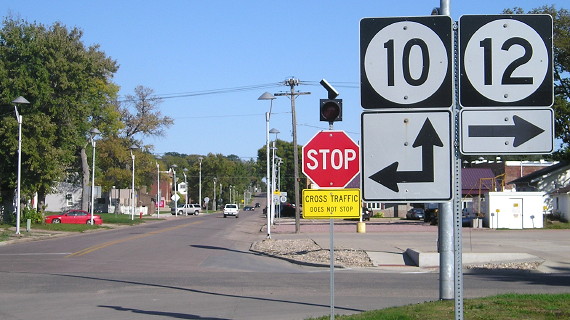 Facing east (9/30/15)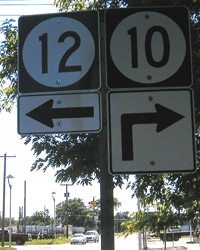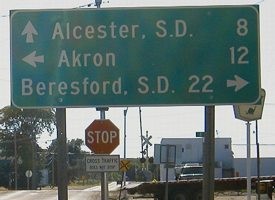 Facing west on 10 (6/14/04)
Camera overly sensitive to light, facing west in late afternoon...you know the drill.
Between 2004 and 2012, Kum & Go rebuilt its store in the southeast corner of the intersection (while also switching sub shops from Blimpie to Subway), and the northwest corner went from a Sinclair to a Casey's. The latter is very new (at the time) because the surrouding sod was watered, very noticeable during drought.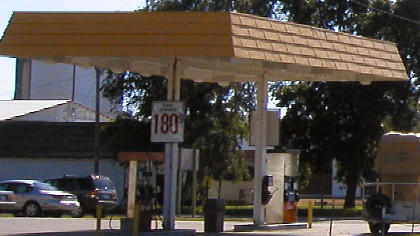 ... and the K&G awning isn't the only thing nostalgic in this picture. Sigh. (6/14/04)
SOUTH End (October 1, 1958-June 29, 1979; 2000-present): I-29 exit 151, Sioux City, Woodbury County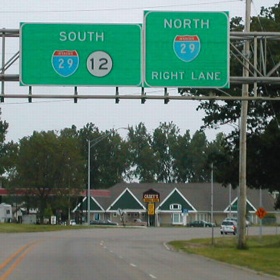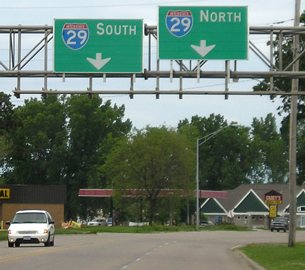 Facing south on 12 (6/18/02 and 6/12/05)
Left photo by Neil Bratney
Here's the deal: IA 12 shields were removed from I-29 and BGSs at relevant interchanges east to the US 20/75 interchange. Gordon Drive/Business 20, under DOT jurisdiction because of the duplex with 12, you would think be off the rolls after this. However, maps since 2000 (not the regular state map) have shown Gordon Drive still as part of 12. The "truncation" of 12 to this interchange means I-29's first and last exits in Iowa are also termini of state highways (IA 333 is in the south). The newer signs at right appear to have an even worse style of Butt-Ugly Kansas-Style signage than usual.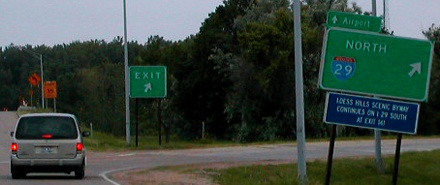 Facing south on 12 (6/18/02)
Photo by Neil Bratney
Neil writes, "No END sign, which makes sense, since all other signs indicate that IA 12 continues south on 29. This exit is a trumpet interchange. I wonder if this I-29 north sign used to also have a US 77 shield on it. The blue sign below says: Loess Hills Scenic Byway continues on I-29 south at exit 143." In 1926, 12, which at that time went to Missouri, was truncated to north of this area at Military Road (which had for 6 years been IA 34, then became IA 141, and would become US 77 in three years). The intersection of Riverside Drive and the Military Road bridge to South Dakota still reflect 77's flow of traffic.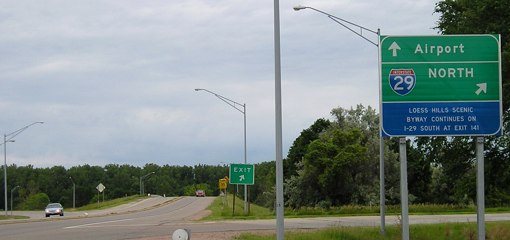 Facing south on 12 (6/12/05)
When these pictures were taken, the south end of IA 12 was a pure trumpet interchange. As part of the massive I-29 project in Sioux City, the Riverside Drive exit was changed to a diamond.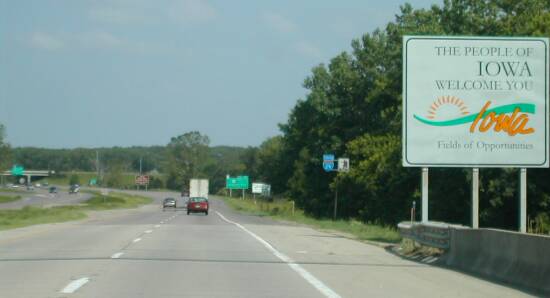 Facing east, but heading south, on 29 (6/18/02)
Photo by Neil Bratney
This photo shows I-29's entrance to Iowa, but it also shows the first BGS for IA 12. The bridge for the trumpet interchange is at left. Notice the offset 12 shield on the BGS, indicating it is one of the three two state route BGSs on I-29 that has/had a directional tag on it (the others being IA 192 at both ends and IA 988 on NB 29).

Facing east, but heading south, on 29 (5/13/07)
Photos by David Morrison
The IA 12 interchange is close enough to the state line that only a ¼-mile advance sign is put up.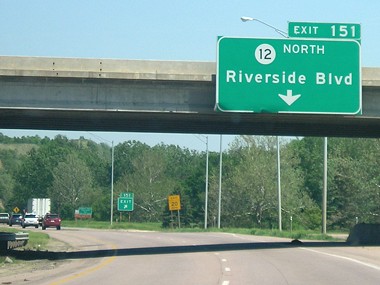 Facing east, but heading south, on 29 (5/13/07)
Photo by David Morrison

Facing south, but heading east, on 29 (6/4/14)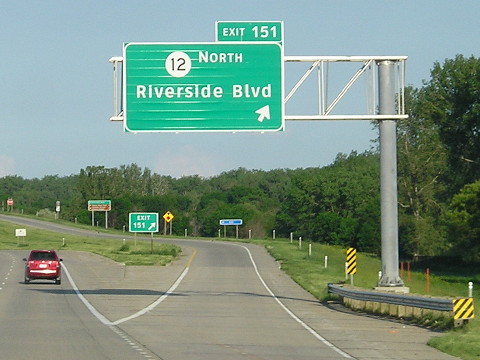 Facing east, but heading south, on 29 (6/4/14)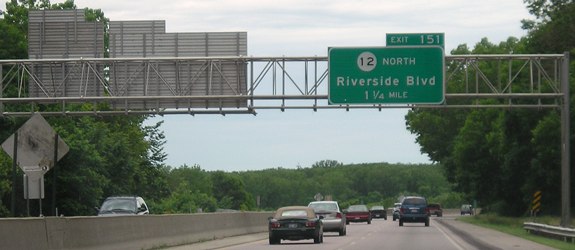 Facing west, but heading north, on 29 (6/12/05)
The signs at left include a preliminary sign for US 77. Notice the tight area from traffic here, due to topography and that this part of I-29 was built on top of an alignment of US 77 from the 1940s. This was part of the first section tackled in the Sioux City reconstruction. For comparison, I-35's Exit 151 is C70 in southeast Wright County.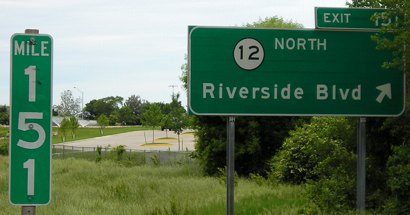 Facing west, but heading north, on 29 (6/12/05)
A bit to the east of this point (behind the camera), the realigned 77 began to curve northwest - especially noticeable in the 1990s aerial photos. Before 77's realignment to the road alongside the Missouri River, it followed West 4th Street out of downtown but had a geographical dip in this area, coming southward from 4th at a point about due north of this photo then curving back northwest and going north. The scar from this southward turn can still be seen from the air, but the turn back northwest has been obliterated by construction since 2000. Due south (left) of this position is the southeasternmost extension of Union County, making this one of the places part of Iowa is "north" of South Dakota.
In late 1957, Riverside Boulevard opened along with the new superhighway to the Combination Bridge. However, this occurred in steps (October and December), and I-29 signs were not put up at that time. A year later, when the short segment between the Combination Bridge and Gordon Drive opened, 29 was signed and 12 was truncated back to this exit.
Aerial photos show that the northbound exit originally started much farther back and then the ramp forked to provide access to a pair of drive-in theaters inside the northeast quadrant of the interchange. All remaining traces were obliterated in the late 1990s with construction of a Fareway and Earl May along a new War Eagle Drive. A photo in the DOT archive shows brand-spanking-new concrete plus signs for US 77 and IA 12 at the exit (the bridge would not open for three more years), but I don't think I'm allowed to post it here.
All BGSs at the I-29/US 77 interchange used to retain space for IA 12 shields. At this point it's unknown why signage was taken down everywhere when the DOT is still maintaining the route as part of 12.
Along the route: I-29 exit 147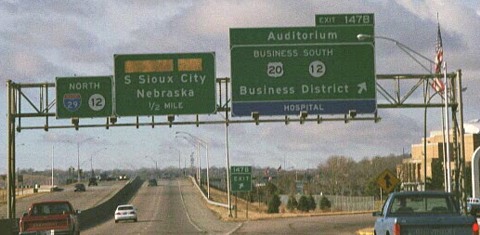 Facing west, but heading north, on 29 (1999)
Photo by Eric Peterson
The upcoming exit is for US 77, but there wasn't and isn't any indication of that on the sign. This was the end for 12 between the time the first part of I-29 (as US 77) and the extension to Gordon Drive opened, a segment torn up and reconfigured in the late 2010s.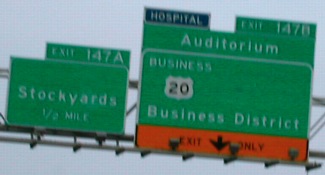 Facing east, but heading south, on 29/old 12 (6/18/02)
Photo by Neil Bratney
The blank to the right used to hold "South 12" but all shields were removed (northbound and southbound) when a new sign was put up for the Tyson Events Center. The left sign was blank for a few years until replaced with "Floyd Boulevard/Historic 4th Street".
Old but technically current SOUTH End: Interchange, US 20 (now US 20/75), Sioux City, Woodbury County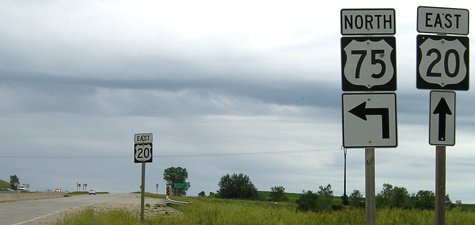 Facing east, but heading south, on 12 (6/12/05)
It's possible that the "East 20" at left used to be the "End 12" marker.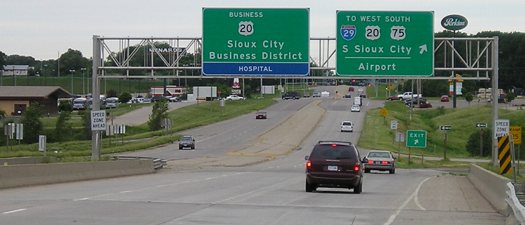 Facing west (6/12/05)
The "Business 20" is offset because to its right would have been "North 12."
Many more pictures of this interchange can be seen on this page.
Page created 5/6/04; last updated 4/9/17