(June 4, 1935-May 12, 2003)
Within two months of taking these pictures, the signs came down on the date above. Pocahontas County orginally accepted the road Dec. 13, 2002.
WEST End: Stop sign, IA 4 and C15, Pocahontas County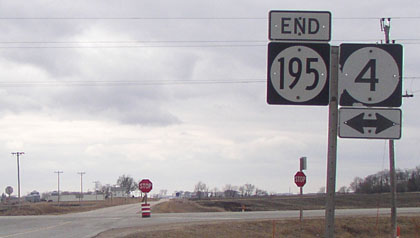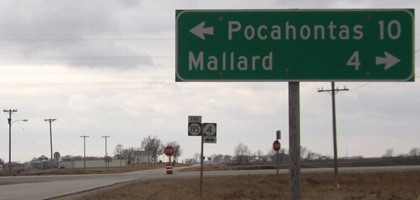 ALL: Facing west on 195
The pole for the sign at left is stuck on another one that's actually in the ground. One of the double arrows was posted by the Department of Redundancy Department; everything would be correct for a county road if the pole holding the "End 195" shield would just be uprooted entirely. I would say the 4 shields look a bit weird or off-center, but that's because the number doesn't lend itself well to symmetry, and this east-central Iowan is not used to seeing a 4 by itself. :-)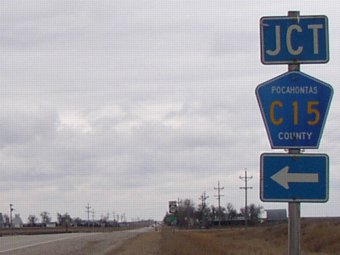 Facing north on 4
This is an older sign, because the county name and shield outline are white instead of yellow. Its replacement is below.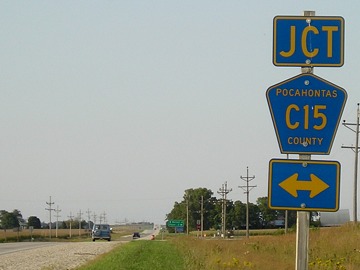 Facing north on 4, post-decommissioning

Facing north on 4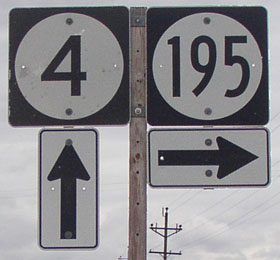 Facing north on 4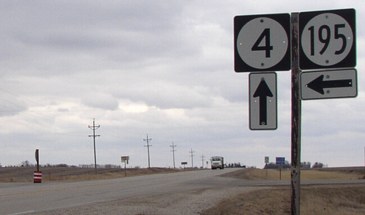 Facing south on 4
I'm not sure why the shields are reversed, but that isn't a problem now.
EAST End: Stop sign, UP (C&NW) railroad tracks, Plover, Pocahontas County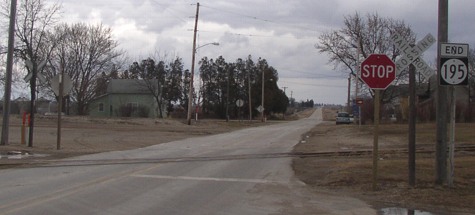 Facing east on 195
I don't know if the train traffic justifies the stop sign, seeing as though the current state map shows this track ending at Mallard. The tracks used to go through Ayrshire - it's the same railroad 314 ended at - and end at east-west tracks at Ruthven.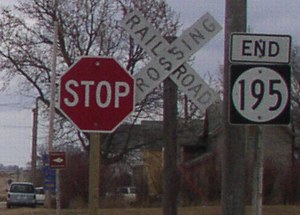 Closeup of signs
In the background, between the van and the stop sign, are a county sign to a park and "Jct N57". N57 is a mile west of where it is compared to Palmer.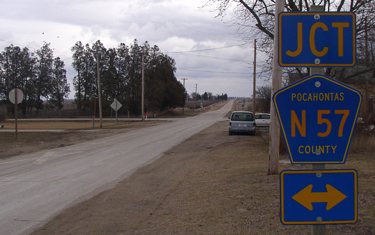 Facing east on C15
The round RRX sign for the tracks is at left. This is on C15, although unlike 315 we're not told until after the intersection.
Last seen: 2003

All pictures by me: All except fifth, 3/21/03; fifth, 9/8/06
Page created 4/26/03; last updated 12/11/06