Old WEST End: Stop sign, US 30, Tama County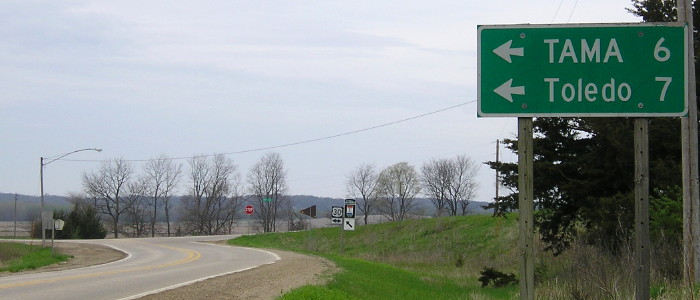 Facing northwest, but heading west, on 212 (4/19/17)
The Tama County stretch of Highway 212, part of the original Lincoln Highway, was decommissioned in 1980 but still occasionally shows up on maps today. It's actually a very well-traveled road, serving as a shortcut between Tama and Belle Plaine, and is part of the shortest and most direct route from Marshalltown and Tama to Iowa City. On October 26, 1937, the straight route of US 30 through the "Bohemian Alps" was opened and 212 was extended northwest of Belle Plaine. (The portion east of Belle Plaine became IA 131.)
On May 27, 1980, the Tama County Board of Supervisors played its part in the Great Decommissioning by accepting highways 171, 318, and this part of 212, although the state DOT did not take signs down until summer (based on a transfer of jurisdiction effective July 31). However, approximately 140 yards - 422 feet - of 212 west of 21 is/was in Benton County, and while the state maintained it until July 1, 2003, as IA 940, it was signed as E66 the whole time. Various maps, including one in a DOT booklet in 1985 and TV weather maps up to the late '90s, still showed this as state-maintained. (And going to the other extreme, KCRG drew in the finished US 20 in 2002!)
This intersection has a limited future ahead of it. When US 30 is upgraded to four lanes in 2020, the pavement will be chopped off and E66 will be reconfigured to intersect 30 a mile to the east.
As far as the picture goes, it's very, very strange that one town is in all caps on the LGS and one is not.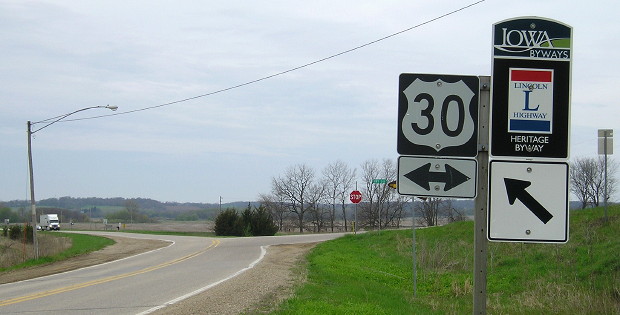 Facing northwest, but heading west, on 212 (4/19/17)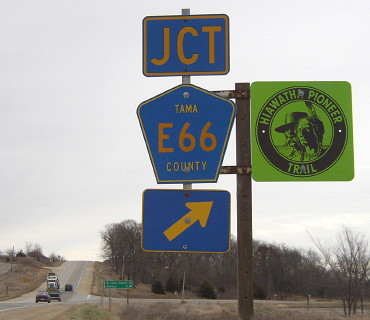 Facing east on 30 (11/29/02)

Facing east on 30 (11/29/02)
This curve helps show the original alignment; the road at the top of the hill did not exist until the '30s. The Lincoln Highway turned right here, as did 30 for its first 10 years. E66 is the Lincoln route except through Chelsea, where the Lincoln went into town but 30/212/E66 skirts the northeast side. The 'bypass' was constructed in July 1931, and the north-south portion into Chelsea became IA 247; much of it is now V18. The portion leaving Chelsea to the east is now part of an Iowa Scenic Byway, but is in slightly worse shape than the other section. The Lincoln is signed very well in Chelsea. Another historic route that is no longer marked here, the Hiawatha Pioneer Trail, continued to follow 30 but the shield in 2002 lacked an ahead arrow under its sign, somewhat implying that the trail follows E66, which it does not. (And it looks like a new sign too...)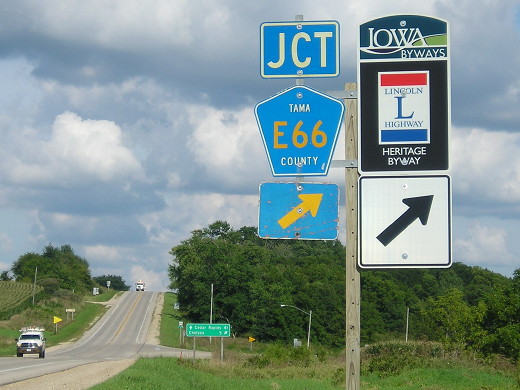 Facing east on 30 (8/8/16)
It should be noted that E66 in Tama County always runs north of where E64 is. The intention probably is to be a continuation of Benton County E66 after a very long gap; a better number would have been E56. East of US 63, E64 drops far south for its number; perhaps E66 should have gone to it.

Closeup from above photo
There were no signs for the Lincoln Highway here until 2011 (about the same time the Hiawatha Pioneer Trail vanished).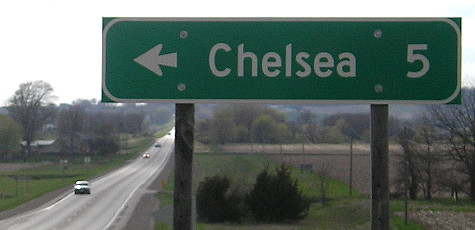 Facing west on 30 (4/17/16)
Temporary WEST End (July 31, 1980-August 4, 1981): Tama/Benton county line near Belle Plaine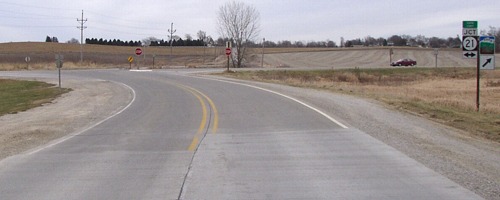 Facing east on 212 (11/29/02)
Tama County took its portion of 212 in calendar 1980, but the official route log for 1981 truncated the route only to the county line, keeping the segment through Belle Plaine listed. Benton County objected to taking this 422-foot-section west of 21 because it would have to plow it as a high priority when there are no other paved county roads nearby. (In fact, Benton County made out like a bandit in the Great Decommissioning, successfully maneuvering to keep all routes on the books and accepting a grand total of zero miles of road.)
A photo in the Belle Plaine Union on February 4, 1981, clearly shows 212 still signed at IA 131's south end in Belle Plaine. That means it's likely there was an end sign here for a year or, at the least, all signs at this intersection with 21 remained intact. DOT records put online in 2016 show that the transportation commission truncated 212 to the intersection below and designated IA 940 on August 4, 1981. Photos of the intersection are on that page. Also that year, a new bridge across the Iowa River was built, resulting in the shift-over on IA 21 today.
WEST End: Intersection, IA 21, Iowa County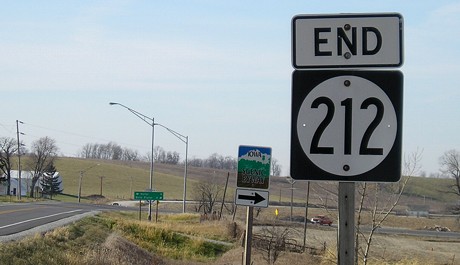 Facing west on 212 (11/22/06)
Like 249 and 363, 212 ends at an intersection with a dominant curve. Unlike those two, though, the curve isn't on the main highway, but rather from the end of one highway to the other. You can see the banked curve from 212 to 21 north. Why is it like this? Read on.

Facing west on 212 (11/22/06)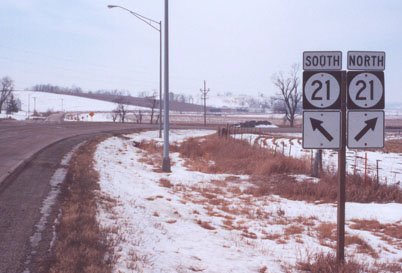 Facing west on 212 (12/2/01)
Photo by Jason Hancock
In 2006, IA 212 was repaved, including extra asphalt on each side of the lanes (see the "End" picture). This is somewhat impressive considering the curves and narrow roadbed of 212's entire route. However, for some reason, this did NOT include the connecting road to IA 21 shown below.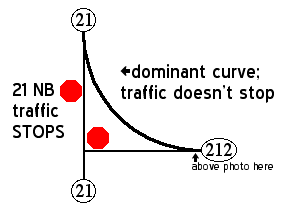 The layout of this intersection is a relic from the 1930s, when the north-south road south of this intersection was a gravel county road - and remained so until 1961. Since the Highway Commission set the stop sign on October 23, 1934, a month after IA 21 was designated, the road that keeps going has always had to stop! Traffic heading north on 21 must stop as the curve comes into the route. Whether this is beneficial or not depends on what way you're going. Highway 212 is part of the shortest (though not the fastest) Marshalltown-Iowa City route, so it's nice for that traffic to not have to stop.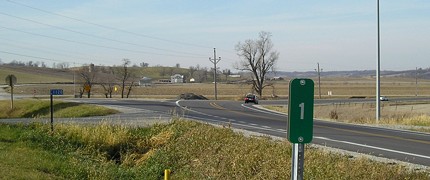 Facing northwest (11/22/06)
When 212 was truncated the mile markers were not moved; the 1-mile marker is just past the curve.

Facing north on 21 (7/8/05)
Notice the "Stop Ahead" signs just after the intersection as 21 approaches the curve. In the deep background, you can see a slight shift in the road as a new bridge was built parallel to the original straight alignment at some point in the distant past.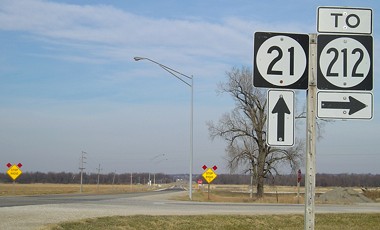 Facing north on 21 (11/22/06)
Likely concurrent with the paving of 212, a "To" tag was added above the 212 shield here sometime after early July 2005. (You might be able to barely notice its absence in the background of the above picture, by the Scenic Byway arrow.) Because the connecting road wasn't paved, it makes you wonder what designation it actually has. There's a nice symmetry in this direction with the 2-1-2-1-2 markings.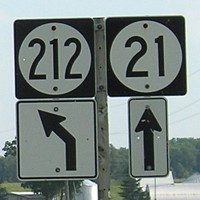 Facing south on 21 (7/8/05)
This is the first indicator for 212, no "Jct" or anything, which means it was probably like this before 1980.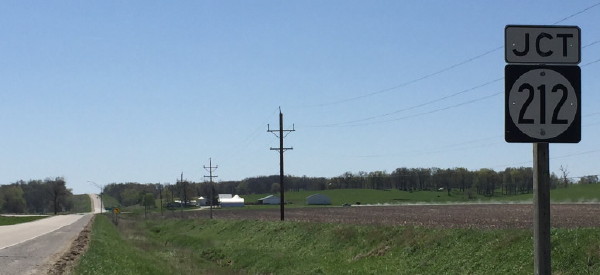 Facing south on 21 (April 2017)
Photo by Mark Odor
Three decades after 212 was truncated to this interection, the arrows were removed and a true "Jct" sign put up.

Facing south on 21 (7/8/05)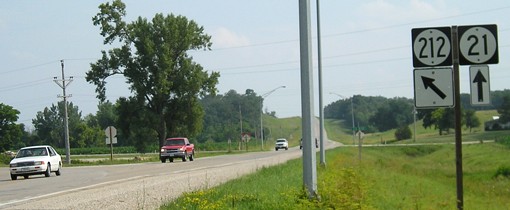 Facing south on 21 (7/8/05)
EAST End: Stop sign/sort-of-T intersection, US 6, Marengo, Iowa County

Facing west, leaving Marengo (7/24/08)
This sign is unusual because it has a highway destination BEFORE a town. Usually, if there is no other town and the highway is the end point, there isn't anything else listed.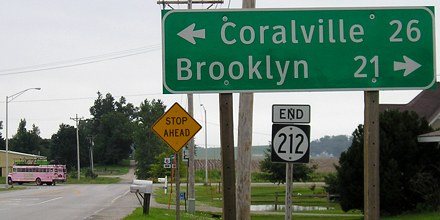 Facing south, but heading east, on 212 (7/24/08)
The road ahead is a dead end, hence the "sort-of-T intersection". Until the mid-'90s, there was a big curve from westbound 6 to westbound (northbound) 212.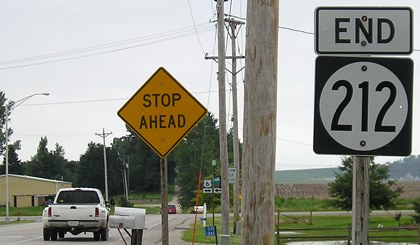 Facing south, but heading east, on 212 (7/24/08)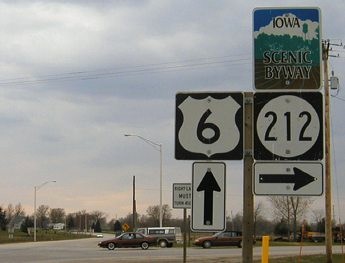 Facing west on 6 (4/9/04)
Running along the south side of Marengo, 6 only intersects two roads: 212, here, and V66, half a mile east. For a while, V66 north of 6 to F15 was IA 411, a highway which seems to have had no purpose but to cross the Iowa River (and thus put a bridge under DOT control). That was the only success of a longtime lobbying effort to get the whole road from Blairstown south to Marengo made a state highway. I can't find any old alignments of 6 in the Marengo area, so it's possible it has always just grazed the south edge of town.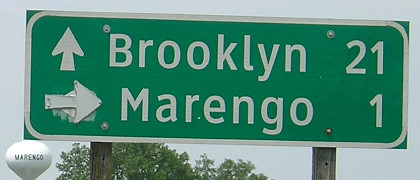 Facing west on 6 (4/9/04 and 6/3/15)
Whoops.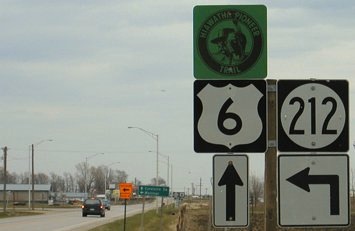 Facing east on 6 (4/9/04)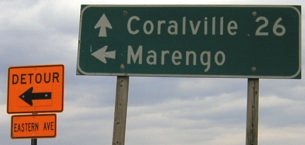 Facing east on 6 (4/9/04)
Westbound, it's "1 mile" to Marengo, but eastbound shows the town nearby.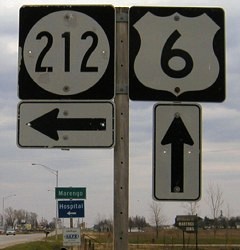 Facing east on 6 (4/9/04)
And there Marengo is.
As one of only 12 Iowa highway numbers above 200 still existing today, IA 212 has had an interesting history. Through Highway Commission minutes and newspaper reports, its official life can be marked very well - except the exact date the signs came down in Tama County.
January 8, 1931-December 5, 1933
IA 212 assigned to a road from Dysart to Belle Plaine, one of the only numbers assigned in January 1931 that isn't a spur (that is, it met another highway at both ends).
December 5, 1933-May 22, 1934
Officially, IA 212 doesn't exist during this time period - the route from Dysart through Belle Plaine to Marengo is all IA 73.
May 22, 1934-September 15, 1934
The Highway Commission resurrects 212 to replace IA 73 in the expectation that US 73 will be designated in western Iowa. (It won't; US 59 will be instead.) During this time, BOTH highways are signed as IA 73 because the signs along 212 aren't changed until mid-September.
September 15, 1934-early October 1934
Judging by articles in the

Belle Plaine Union

and

Marengo Pioneer-Republican

, IA 212 is signed from Dysart to Marengo (34 miles) for about three weeks.
Early October 1934-October 26, 1937
IA 21 takes over 212's route north of Belle Plaine, but 212 still goes up to US 30 in a redundant multiplex.
October 26, 1937-May 27, 1980
(transfer of jurisdiction July 31)
IA 212 goes from US 30 east of Tama to Marengo (27 miles).
July 31, 1980 (signs?)/
August 4, 1981 (route log)-Present
IA 212 is a diagonal connector from IA 21 to Marengo (12 miles). Since 2003, 212 and 220 make Iowa County one of only four or arguably five counties to have two signed state highways contained entirely within that county. Allamakee, Jasper and Polk are others, but Van Buren County has IA 98 and 81, the latter of which goes into Missouri with the same number.
Page created 4/23/02; last updated 5/12/17