NORTH Iowa line (1929-Dec. 15, 1961): Big Sioux River (Military Road bridge), Sioux City IA/North Sioux City SD, Woodbury County IA/Union County SD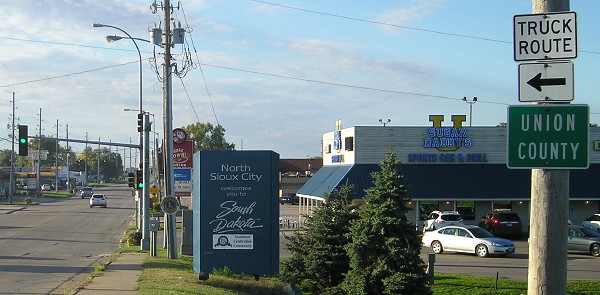 Facing northwest, but heading north, on old 77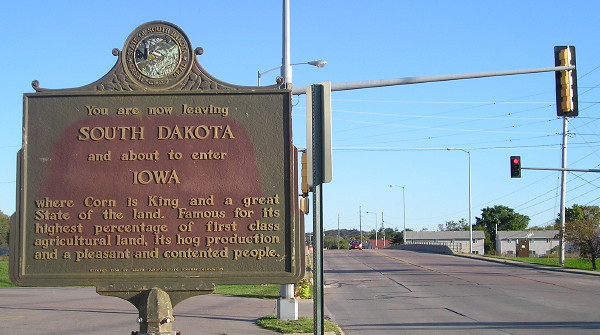 Facing southeast, but heading south, on 77
The other side of this marker extols the virtues of the state of South Dakota.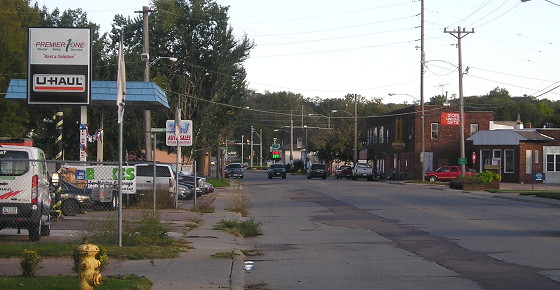 Facing southeast, entering Iowa (9/30/15)
By its "Military Road" name, you can tell that this was a very early street in the area's history. The earliest connection to South Dakota (originally IA 23, and then IA 141 in the late '20s) used more of Military Road through the west half of Sioux City until, in 1929, it was realigned to turn south at Riverside Boulevard and then east on 4th Street. This change may or may not have been concurrent with US 77's entry into Iowa. Today, Military Road continues a little further and then runs into IA 12; the traffic pattern from Military Road to southbound Riverside Boulevard still exists.
Coming south on Riverside in the 1929-49 route, US 77 turned east just north of the present-day I-29/IA 12 interchange, then turned back due north to cross the railroad tracks, then continued east on 4th Street to downtown. Sometime in the 1970s, 4th was dead-ended at the railroad tracks, and in the late 1990s the part west of Burton Street was bypassed in favor of a new War Eagle Drive crossing the railroad and connecting to IA 12.
NORTH Iowa line (Dec. 15, 1961-1982): Big Sioux River (with I-29), Sioux City IA/North Sioux City SD, Woodbury County IA/Union County SD

Facing west, but heading north, on 29 (6/12/05)
The segment of I-29 between what is now IA 12 and the east Business US 20 exit is the oldest segment of Iowa's interstate highway system outside of central Iowa, and part (probably) pre-dates the interstate signage. The first interstate interchange was opened on December 15, 1957, at the bridge into Nebraska. For about a year, this carried US 77 between Hamilton Boulevard and the bridge, though it might not have been signed as I-29 at the time. Then, on October 1, 1958, the segment between 12 and 20 opened as an official part of I-29. For three years, traffic then had to exit and travel north to the Military Road bridge. The short connection between IA 12 and the Big Sioux waited until South Dakota was done, but four months after it opened the span you see here collapsed and had to be rebuilt. More pictures in the area can be seen on the IA 12 page.
SOUTH Iowa line (1929-Jan. 15, 1981): Missouri River (Combination Bridge) (with US 20), Sioux City IA/South Sioux City NE, Woodbury County IA/Dakota County NE
The third connection between Iowa and Nebraska in the area, after a railroad bridge and pontoon bridge, the Combination Bridge opened on January 21, 1896. It had a span that could pivot to let river traffic through (the prominent one below). It was a toll bridge until February 8, 1951.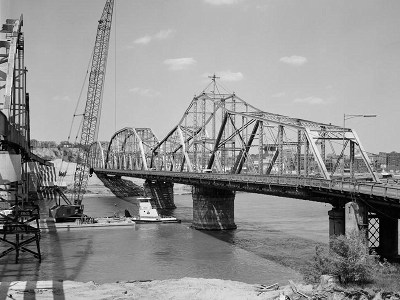 Facing north, leaving Nebraska (May 1980)
The Library of Congress photographers got to the Combination Bridge soon before its 85 years of service were up. Think about that: A bridge built 30 years after the Civil War ended would bring traffic right to an interstate highway for more than 20 years.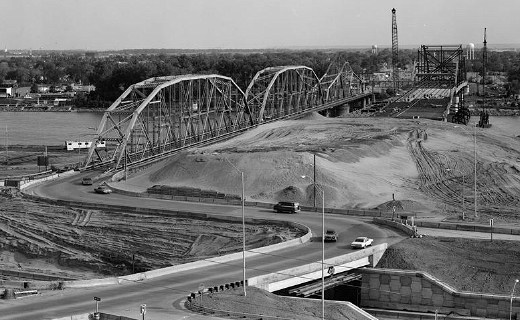 Facing south (May 1980)
Interstate 29 is running across the bottom of this picture. The new bridge is coming across from Nebraska on the right. About nine months after these photos were taken, the new bridge opened. In the winter and spring of 1981, the Combination Bridge would be demolished to finish a three-year-long project that turned an old bridge and "tight cloverleaf" interchange into a new bridge and "Iowa's Most Stupid Intersection." Work began May 15, 1979, when the west-side ramps were closed. The east ramps were built after the old bridge came down. The old bridge came right up to the southeast corner of the volleyball ramps.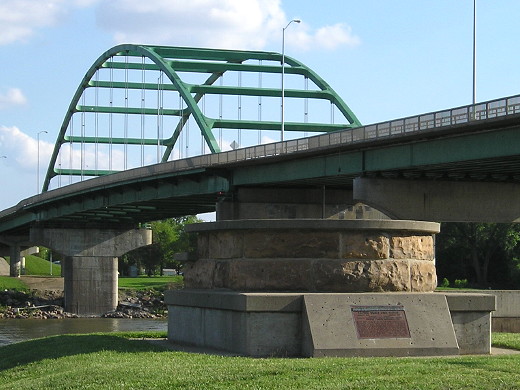 Facing south (6/4/14)
The cylinder in the foreground is a piling from the old bridge, and there is a counterpart on the Nebraska side.
NORTH End (since 1982): I-29 exit 148, Sioux City IA/South Sioux City NE, Woodbury County IA/Dakota County NE

Facing north on 77 (6/12/05)
The volleyball interchange was removed as part of the decade-long reconstruction of I-29 in Sioux City. It is now more or less a flattened diamond.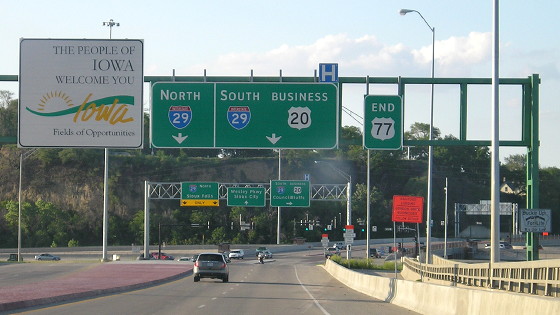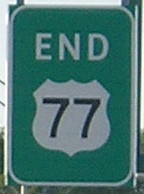 Facing north on 77 (6/4/14)
In 1982, the US highway with the southernmost extent in the United States - all the way to Brownsville TX - was brought to a halt just across the Missouri River at I-29. Though US 77 has never been very long in Iowa, its north end is now here. One side effect of the truncation was that Sioux Falls no longer had a US route; US 16 had been pulled back to Rapid City a few years earlier.
For more pictures of the interchange, along with the new bridge, see the US 77 North page.
SOUTH Iowa line (Jan. 15, 1981-May 6, 1982; May 1983-present): Veterans Memorial Bridge, Sioux City, Woodbury County IA/Dakota County NE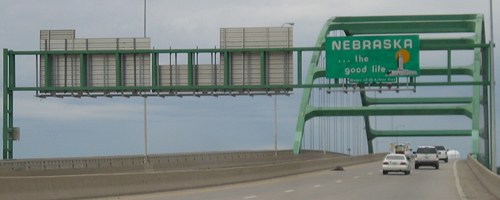 Facing south on 77 (6/12/05)
Jason Hancock found out that a few months after the new bridge originally opened, cracks were discovered in the bridge's girder and the bridge was closed for a year. US 77 traffic, then, had to come into Iowa farther south:
[Temporary] SOUTH Iowa line (1982): Missouri River bridge (with I-129 and US 20), Sioux City, Woodbury County IA/Dakota County NE
The closed-bridge-related reroute of US 77 would have given the route its greatest total extent in Iowa - approximately 7 miles - until 77 was truncated. Signage in those few months in 1982, until whatever month 77 was truncated, is unknown.
For modern signage of the area, see the I-129 page (east end).
Page created 7/24/06; last updated 4/1/15