A four-lane 20 "ultimately would extend straight west to Webster City"
-Waterloo Courier, April 7, 1957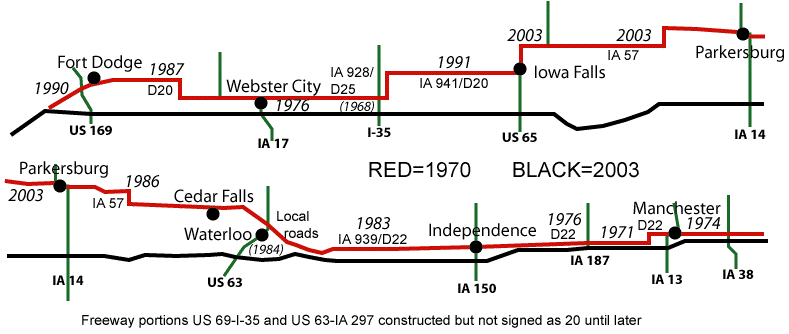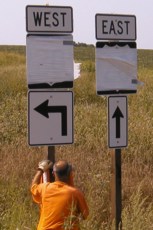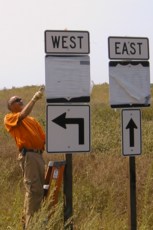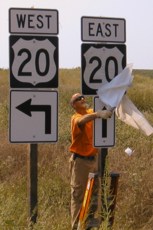 Unveiling of 20 shields on S56 southbound, north of Steamboat Rock - approx. noon
The two photo catalogs linked below split the morning into two groups: Before the ceremony and during/after the ceremony.
Some file names denote the speakers in the photo: Iowa DOT director Mark Wandro, Gov. Tom Vilsack, Rep. Tom Latham, Rep. Steve King, and Floyd Magnusson.
I arrived kind of late and ended up parking a block away from the Steamboat Rock school. There probably hasn't been this many cars in town in a long time. Buses from AGWSR, Eldora-New Providence, Iowa Falls, and Alden waited to take the hundreds of people to the ceremony. Many in the crowd were older; the vast majority was in the 55-to-80 age range. The Steamboat Rock school has been converted into a "mall" of sorts with different local craftspeople in each room. The gymnasium, complete with old Steamboat Rock Pirates drawing on the wall, had displays from local groups related to either business or Highway 20 itself. Everyone got a sticker that said "Highway 20 Across Iowa: Go Four It!" as a reminder that 95 miles of 20 was still two lanes. A newsletter which I declined to pick up at the time - and then cursed myself because that booth was gone afterward - chronicled the history of 20 and proposed four-lane routes through the Iowa Falls Times Citizen.
The official program gives these statistics for the new segment: 26.9 miles long, a savings of 15.5 miles and 16.8 minutes (leaving 20 just barely over 300 miles in Iowa), four interchanges (actually three - D35, S56 and T19 plus half-interchanges at 65 and 14), and 80 million dollars. The bridge itself is 9.3 million pounds of structural steel, 43.2 million pounds of concrete, 225 feet from the bottom of the support to the top of the bridge, 1630 feet long, and 20.5 million dollars with 15 to 20 percent of that directly attributed to environmental concerns and accessibility challenges.
The buses headed west out of Steamboat Rock on D35, going to the Owasa interchange (#175) and entering the freeway there. They then traveled about three miles to the west side of the Iowa River Bridge. The platform was at the west end of the eastbound lanes. The bridge itself is between small mile markers 179.25 and 179.65. At the east end of the bridge is the advance BGS for S56, which listed Eldora and Ackley. However, the D35 interchange to the west listed Eldora westbound. I don't know if that means the BGSs for those interchanges in the other direction do not list Eldora or if it's listed twice. The buses dropped us off and we had a chance to walk along the bridge. Many, many fire trucks were already parked on the bridge. The podium had a fake styrofoam 20 shield on it. With something like this it shouldn't have been that hard to spring for the real thing. :-P
After some remarks by Director Mark Wandro, Gov. Vilsack took the stage. He said this freeway kept a promise to National Guard troops that they would return to a better state than they left. He talked about the economic importance of freeways: "A four-lane highway means jobs." He said the job was not done, referring to the rest of 20 west of Fort Dodge. (This was an oft-repeated point.) He credited Iowa's congressional delegation for fighting for Iowa's fair share of transportation funds, noting that because of ethanol Iowa's share is less than that of other states. He said this road would not be possible without the US 20 Corridor Association and thanked them for their work. Finally, in a statement directly mainly at the AGWSR band, Vilsack asked them to consider remaining in Iowa after graduation. "This work is not to benefit them (older people), but you. ... Be proud of where you're from."
Then came Rep. Latham, the only official not in suit and tie. "I did get the memo that this was informal." That got a big laugh. Latham represents Hardin County. In 2002 Grundy County switched districts from Jim Nussle to Leonard Boswell, neither of whom attended. The other representative in attendance, Steve King, represents three of the counties that don't have a four-lane 20. He thanked former state Sen. Rod Halvorson for his efforts. Again, talk about completing the rest of the route got a bunch of applause. He said that this was the longest stretch of four-lane highway opened in Iowa at one time since the interstates. I believe this is correct; the new US 18 in Cerro Gordo and Floyd counties on Dec. 16, 1999, was 24 miles. (Two separate sections of 20 totaling 26 miles opened in 1976, though.)
Finally, Floyd Magnusson, president of the US 20 Corridor Association and a member of the Webster County Board of Supervisors, took the stage for a short time. He thanked everyone and really appreciated the work that moved the opening up from the original Oct. 4 date, to a week before 500 cars go from Fort Dodge to Iowa City. (Comment: Yes, forget economic development, that's the real reason. They all want to get to Hawkeye games faster. :-)
I had to wait for the second round of buses before returning, which was done by crossing the bridge and going to the S56 interchange (#181). I do not know where the 15-16 miles got lopped off in the mile-marking scheme. And as you can see by the map above, it's not really going to be that accurate anyway. After putting my name down for a shirt (they were out of XLs when I got there), I headed north on S56 to what by evening would be "old 20". A stroke of luck put me back at the interchange just as they were taking the covers off (see above). My first encounter with a new 57 shield was just west of S56 in Ackley. All of the 20 shields had already been replaced, although the mile markers for 20 were still up. I don't know when (if?) they'll get to fixing that. However, no 57 shields were to be seen on northbound 65 approaching 57's new west end.
I got into Iowa Falls, where I planned to follow old 20, formerly IA 941, now D20, and return to Ames. (NOTE: As the LGSs at the S56 interchange show, the official distance between Fort Dodge and Waterloo is now 99 miles.) As I stopped at the Casey's on 65 to get a drink, the gas price was jacked up from $1.619 to $1.689. Considering it was $1.499 when I got gas on Sunday night, that hurts. Some stations in Ames were still at $1.589, but I doubted that lasted much longer after I passed by.
Additional US 20 information - and pictures along its old route - can be found on IA 928, IA 941, IA 263, IA 57 west, IA 57 old east, IA 402, and IA 939.
Page created 8/22/03