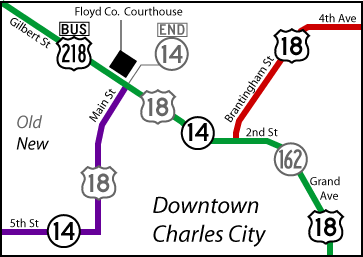 This map is a guide for changes that happened in Charles City in 2006. Old routes are marked with gray shields. For a view of Charles City highways as a whole, see this image.
NORTH End: Stoplight, US 18 E/Brantingham St. and US 18 W/2nd St., Charles City, Floyd County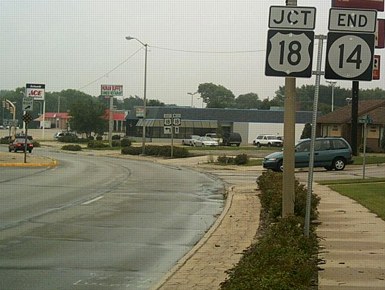 Facing east, but heading north, on 14
Photo by Jason Hancock
In May 2005, the AASHTO Standing Committee on Highways approved a change to US 18's route in Charles City: "Beginning at the intersection of present W. Jct. US Route 218/Ia14/Ia27 and an existing facility west of Charles City then southerly and easterly over the facility for 3.57 miles to the E. Jct. US Route 218/Ia27, then northerly over an existing facility for 17.75 miles to the intersection of present US Route 18 in Charles City." (17.75 must have been a typo for 1.75 miles.) On the 2005 map, the red line for US 18 switched to the south side of Charles City. But the changes weren't realized until spring 2006, when new signs were put up throughout town. Because of this, 14's last northbound section goes southeastward and then curves to face straight east as it ends at 18.
At the very bottom of the picture, spray-painted on the street, is written "Jct 18 End 14 Locate." For pictures of this intersection before the changes, see the IA 162 page.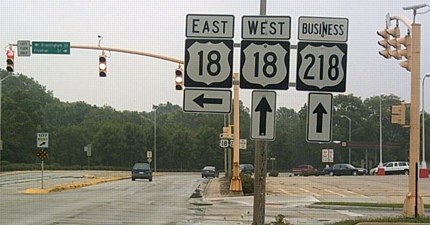 Facing east, but heading north, on 14
Photo by Jason Hancock
Previously, westbound 18 approached this intersection from the opposite direction, but the eastbound turn for 18 remains the same. Freeman Street goes off to the right.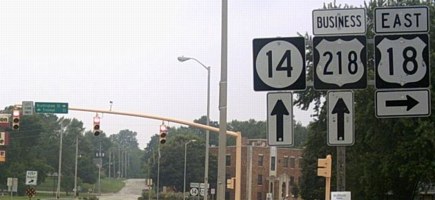 Facing west, but heading east, on 18, and heading north on Business 218
Photo by Jason Hancock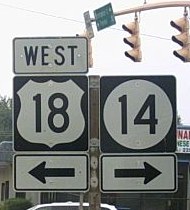 Facing south, but heading west, on 18
Photo by Jason Hancock
Before the change, west 18 went to the right. The reroute made US 18's route longer, but eliminated a hard turn west of downtown and added a few miles of four-lane.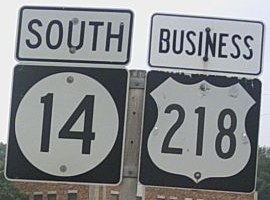 Facing west, but heading south, on 14
Photo by Jason Hancock
Despite the "South" marking, the road turns northwest.
Old NORTH End: Stoplight, US 18/218/Gilbert St. (later Business 218), Charles City, Floyd County
Unless noted, these pictures show the setup between 2000 and 2006.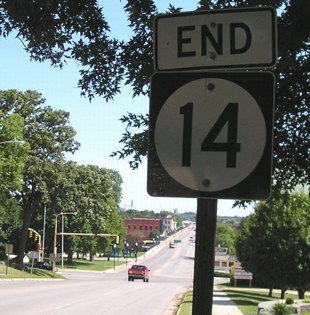 Facing northeast, but heading north, on 14
For at least 75 years, and possibly just over 85, the north end of IA 14 was right by the Floyd County Courthouse. The route of US 18 in Charles City in 1931 was changed to almost the configuration it had right before the bypass (it crossed the river one block farther east), and it's possible that 18 continued straight ahead before then.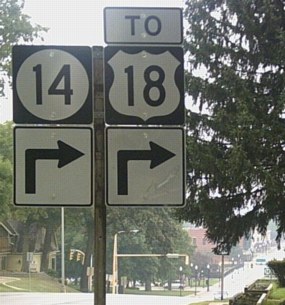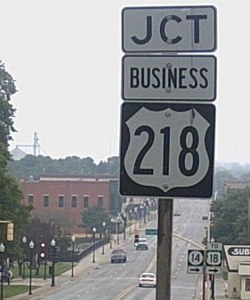 Facing northeast, but heading north, on 14 (2006)
Photos by Jason Hancock
Prior to the reroute, there was no signage for Business 218 from 14. (Try not to confuse "218" with "To 18".)

Facing northeast, but heading north, on 14
Photo by Jason Hancock
Until the US 218 bypass of Charles City opened in August 2000, the street that 14 ended at carried the main routes of both US 18 and 218; as of 2006 it's just Business 218. The road ahead is Main Street, which goes into downtown Charles City without a number. Compare the pole with "18" on it to the one in the background of the right picture above.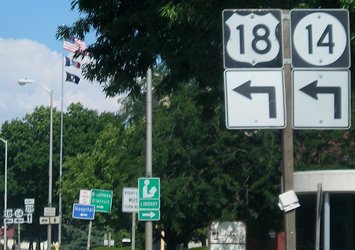 Facing northwest on 18/Business 218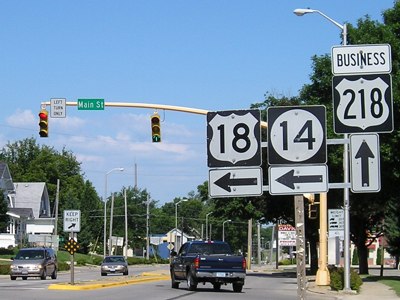 Facing northwest on 18/Business 218
US 18 signage is now gone from the area, as seen in the picture below.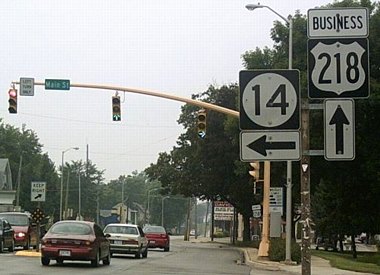 Facing northwest on Business 218, but heading south on 14 (2006)
Photo by Jason Hancock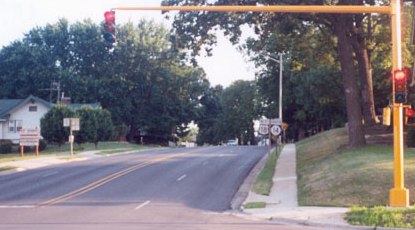 Facing west, but heading south, on 14 (with 18)
Photo by Jason Hancock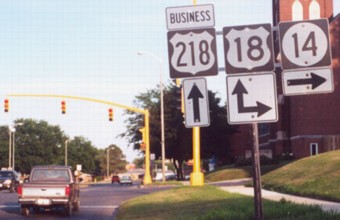 Facing southeast on Business 218
Photo by Jason Hancock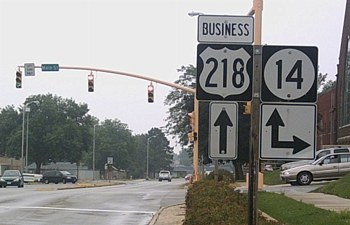 Facing southeast on Business 218 (2006)
Photo by Jason Hancock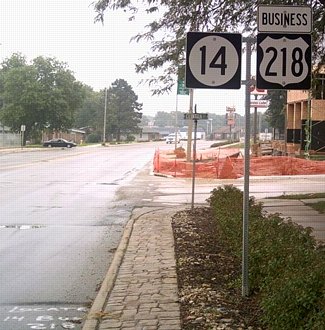 Facing southeast, but heading south, on 14 and Business 218
Photo by Jason Hancock
Notice the "Locate 14 Bus 218" written on the street.
Surrounding area information: US 18/US 218/IA 27 interchange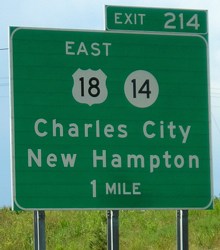 Facing south on 218, but heading east on 18 - sign has been replaced
When the Charles City bypass opened, 18 was piggybacked on 14 for the two miles into Charles City - and 14 wasn't truncated even though it had become a redundant multiplex. In 2006, this all changed - 18 was removed and 14 was left alone. (Perhaps this was a consideration all along.)
While it may not make sense on a map, it makes some sense on pavement. IA 14 coming into Charles City is two lanes and a nasty turn with a hill near the end. Business 218, on the other hand, is four lanes (undivided). The 18 post-bypass pre-realignment route going east through Charles City required left-left-right-left (offramp 218, turn on 14, end 14, 18 split from Bus 218). The change means traffic will just go left-right (offramp 218, off Business 218 onto old route).
In light of that, I've wondered whether it might make more sense to reroute 18 between 218 and 63 altogether, by using IA 346. But after further consideration, that's highly unlikely because of the situation through Nashua and past the Little Brown Church, not to mention that the New Hampton bypass was/is probably justified in part by the US 18 traffic.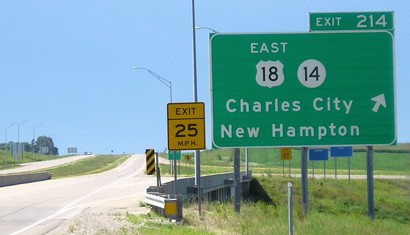 Facing south on 218, but heading east on 18 - sign has been replaced
Due to numbering conventions, the southbound exit here uses 18's numbers - which means that 18 was exiting from itself at the time. Although it would violate the general rule of the lower-numbered route taking precedence, I think using 218's exit numbers around Charles City would have been a better idea since the road is still predominantly north-south. Changing the exit number on the south side of town to match US 18 both ways - making it Exit 218 and having 18 exit from itself again - unites the bypass numbers in relation to Mason City, but now is a greater separation from Waterloo.
SOUTH End: Stop sign, IA 2/Jefferson St., Corydon, Wayne County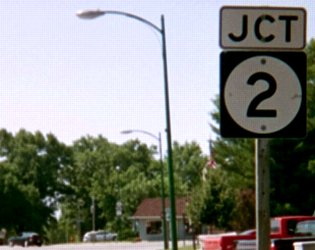 Facing south on 14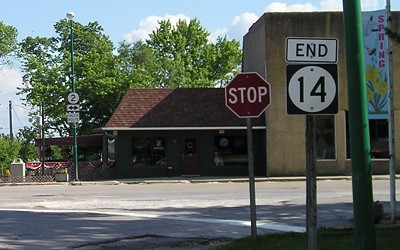 Facing south on 14
This is one of the few ends, believe it or not, that are still in a downtown. Street Atlas shows the last block of 14 half a block east of the straight route it comes into town on, because the Wayne County Courthouse block is right in the middle.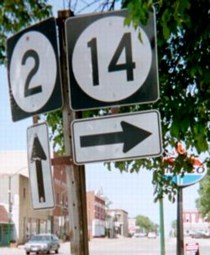 Facing west on 2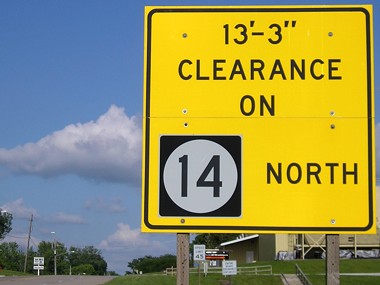 Facing east on 2, coming into Corydon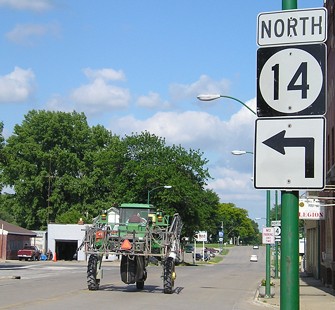 Facing east on 2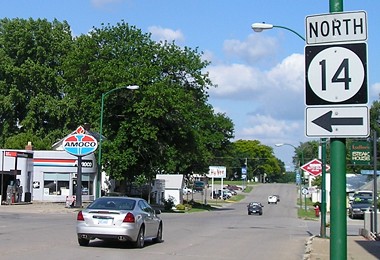 Just to the right is a building frozen in time: It used to be the offices of a car dealership and prominently displays a rack of full-size pamphlets for Chevrolet's entire model line - of 1984.
The rack was still there in 2007.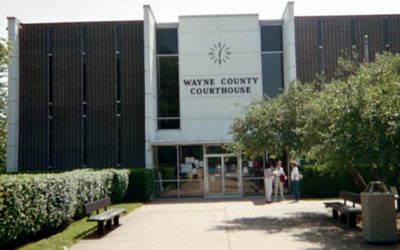 This mid-20th-century courthouse seemed a bit ... different for the downtown and was the only "modern" courthouse I saw on my June 2003 trip though southern Iowa.
Points of interest:
Iowa 14 is probably the longest state highway with the least major changes since its designation in 1920. (IA 9 is longer, but has had somewhat more substantial changes.) Of the original versions of highways 10-19, three are still around but have been severely truncated (10, 12, 13), four were replaced by US highways by 1935 (15, 16, 18, 19), one was renumbered in 1941 (11), and one was replaced in the Great Renumbering of 1969 (17).
With the exceptions, of course, of some slight straightenings and streamlinings (say that five times fast!) in the first 15 years or so, there's barely anything that's changed. The only MAJOR changes in the route have been the 1926 truncation of the route south of Allerton (with about a third of the dismissed part becoming IA 40), and large straightenings in 1925 and 1949 between Newton and Laurel (with the old parts becoming gravel roads and about 3 miles of E67).
As for the minor changes, it's sort of interesting: Many of the highways that cross 14 have been improved while 14 itself has not. Improved roads that now have interchanges with 14 are US 18 (2000/2006), US 20 (2000/2003), US 30 (1996), IA 163 (1999), IA 92 (1978), and US 34 (1961; it's an interchange on the south side of Chariton although the map doesn't show it). All of 14's at-grade intersections with numbered routes (except its south end) are north of I-80. These are some of the post-1935 changes to 14 that I found or know about, working north to south:
A realignment around Greene in 1968 - part of the old route is Traer Street, despite no connections that I know of between the towns. (Perhaps some early settlers were from Tama County.)
A shift around Allison in the late 1930s, creating the current 1-mile duplex with IA 3 (part of the route through town later became IA 47)
Two very slight shifts in northern Marshall County, one quarter-mile piece just north of IA 330 in 1995 and one just north of Marshalltown in 1968 (Wiese Garden Road; old poles that may have held a billboard are on the south end)
A realignment in Marshalltown to leave Center Street south of the railroad tracks on Anson Street instead of north of them on Linn Street, then over to 3rd Avenue between 1983 and 1985. Highway 330 was extended four blocks along part of the old alignment and this change didn't reach Mapquest until the 2000s. (Google Maps is playing it both ways.) According to a special section of the October 2, 2005, Marshalltown Times-Republican, the Center Street viaduct opened on July 11, 1951, but the Third Avenue viaduct is much older, having opened in 1916.
Changes in Newton, possibly 1930s and 1960s, that resulted in 14 skirting the west edge of the city today
The Mile-Long Bridge across Lake Red Rock, constructed in the late '60s. In June 2002, on the north side of the lake, I saw an old bridge being used as a fishing pier and various chunks of pavement breaking through; another piece on the south side is now a boat ramp.
Pictures by Jason Hancock: First-fifth, seventh, eighth, twelfth, 15th, and 16th, 8/13/06; ninth, 13th, and 14th, 7/23/02
Pictures by me: Sixth, tenth, eleventh, 17th, and 18th, 7/31/05; 19th, 21st, and 26th, 6/16/03; 20th, 22nd-25th, 7/11/07
Page created 10/7/02; last updated 10/10/07