(1953-2014)
WEST End of NE 370: Stoplight, US 6/NE 31, Gretna NE, Sarpy County NE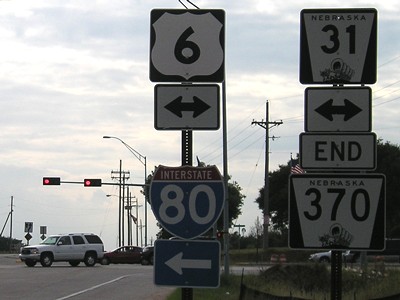 Facing west on 370 (7/29/07)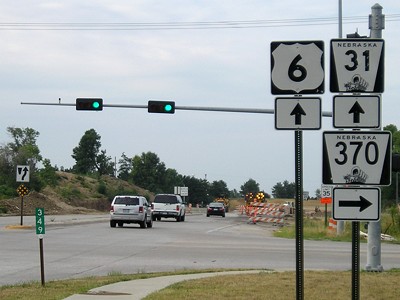 Facing north on 31, but heading east on 6 (7/29/07)
In the mid-2000s, Nebraska four-laned the remaining two-lane segment of 6/31 between I-80 and the Omaha area. The entire route of NE 370 can be seen on the Omaha inset of the Nebraska state map.
In Nebraska, 370 is the highest active state highway number; in Iowa, it was the second-highest after 415 at time of decommissioning. It was selected because in late 1952, 370 was the lowest available number in Iowa that wasn't duplicated in Nebraska.
EAST End of NE 370: Interchange, US 75, Bellevue NE, Sarpy County NE
In conjunction with the opening of new US 34 across the Missouri River, NE 370 was truncated to US 75 and the city of Bellevue got $2.5 million for the road and the bridge over Fort Crook Road (former US 75).
WEST End: Toll bridge, Nebraska state line, Bellevue NE, Mills County IA/Sarpy County NE
Trivia question: What official designation does Bellevue have, but unofficially loses about seven days a year? Answer at the bottom of this page.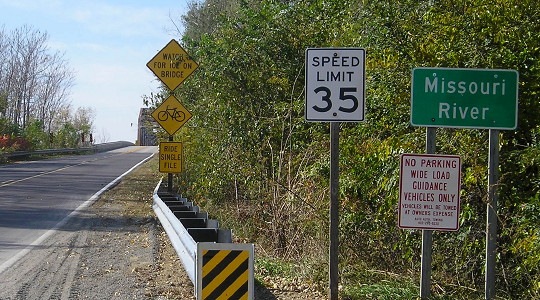 Facing west on 370 (10/22/14)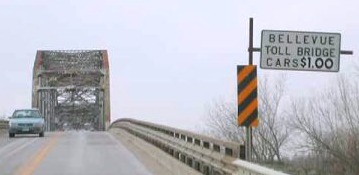 Facing west on 370 (1/22/02)
Photo by Neil Bratney
This is the last sign you see before leaving Iowa. It appears the toll has been increased since the sign was first put up. Nebraska likes to charge Iowans money; many of the bridges across the Missouri River historically had tolls on the west side.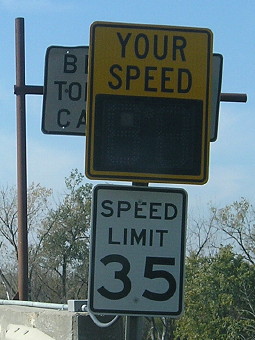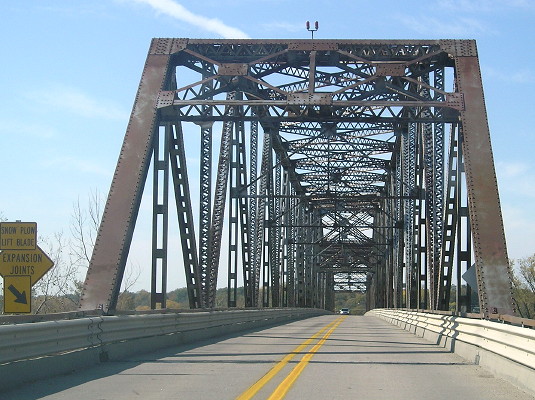 Facing west on 370 (10/22/14)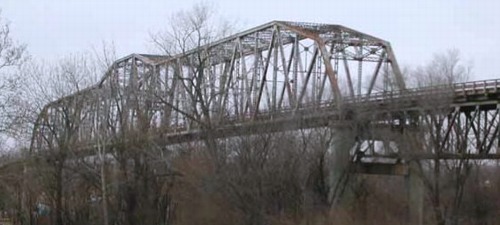 Photo by Neil Bratney (1/22/02)
This is a view of the bridge from the Iowa side, looking northwest.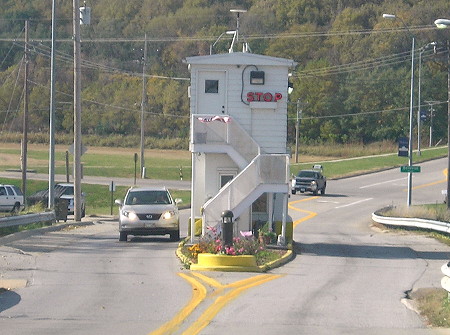 Facing west on 370 (10/22/14)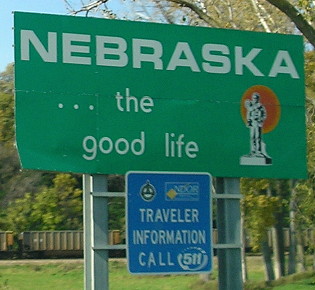 Facing west on 370 (10/22/14)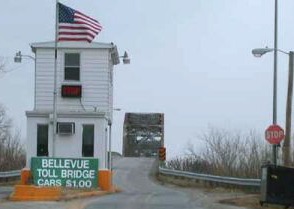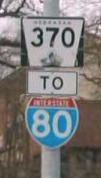 Facing east on 370 / Facing west on 370 (1/22/02)
Photos by Neil Bratney
The number continues across the river and, after leaving Bellevue, is four lanes all the way to its west end at US 6 in Gretna. The highway generally marks the south side of the Omaha urban area, complete with misleading urban directions. (I went to a movie in Bellevue in July 2003. The theater was advertised as being at "Hwy 370 and 36th St." I thus assumed that the theater would be visible from said intersection, being the naive rural Iowan I am. The actual location was "Hwy 370 and 36th St., go north over the hill, and turn left at the third light.")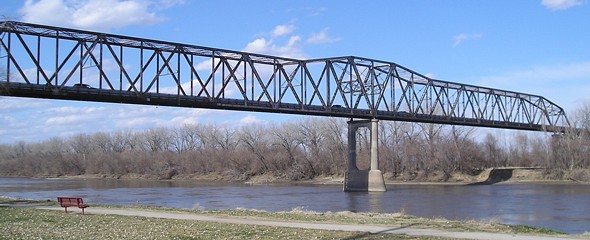 View of bridge from Nebraska side, looking northeast (4/6/08)
With the decommissioning of IA 370 shortly after the opening of new US 34, 346 became the second-highest signed number in the state behind 415 for about a year (until 471 topped both).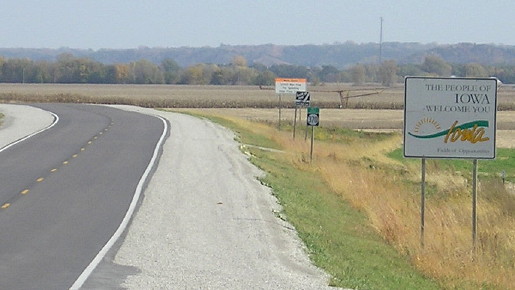 Facing east on 370 (10/22/14)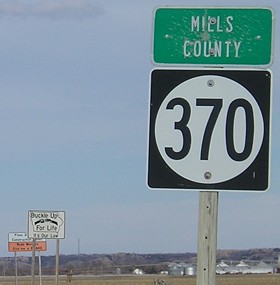 Facing east on 370 (4/6/08)
NO End: October 6, 1980-February 17, 1983
Zapped, and then unzapped
When the short piece of IA 370 in Pottawattamie County connecting to US 275 was decommissioned, the state got rid of the number altogether! The entire route in Mills County was redesignated IA 935 for 28 months (no idea how the signs worked during that time) until someone came to their senses and put the number back on the map. The part east of I-29 remained 935 until the Second Great Decommissioning.
EAST End: I-29/US 275 exit 42 and H10, Mills County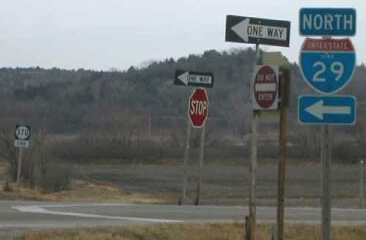 Facing east on 370 (1/22/02)
Photo by Neil Bratney
The end sign appears just after the interchange, like IA 221. Also like 221, the highway used to continue past the interstate but that part was decommissioned. Compare to the picture below: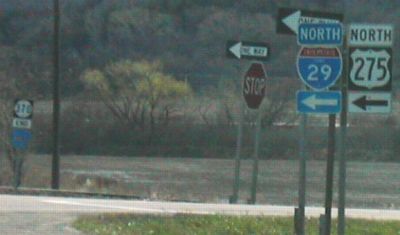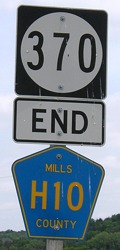 Facing east on 370 / Closeup (3/28/04 and 6/12/06)
Left photo by Neil Bratney
The turnover of secret IA 935 led Mills County to sign H10. This is the only interchange involving the relocated US 275 without that route entering or exiting I-29.

Facing east on 370 (6/9/03, pre-signage of H10)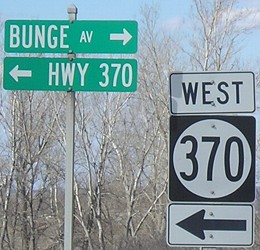 Facing north on the 29 northbound offramp (4/6/08)
Unlike 978, though, 935 was so secret it didn't get signed on the rural street signs. (It was visible on the state map, though.)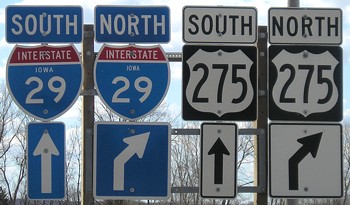 Facing west on 370 (4/6/08)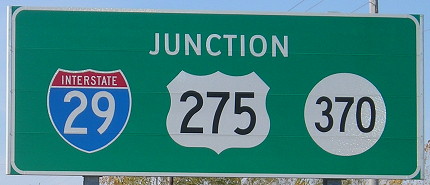 Facing west on 370 (10/22/14)
The day new 34 opened, I made sure to go to 370 to take pictures of interchange signs that were less than three years old and were already in imminent need of modification.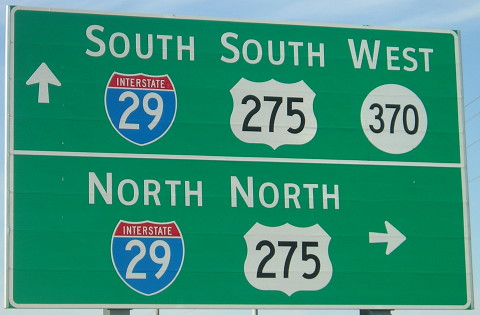 Facing west on 370 (10/22/14)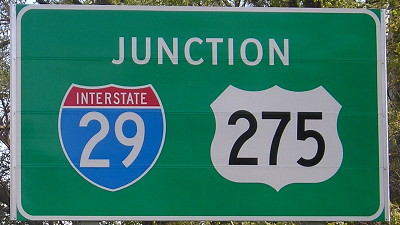 Facing east on 370 (10/22/14)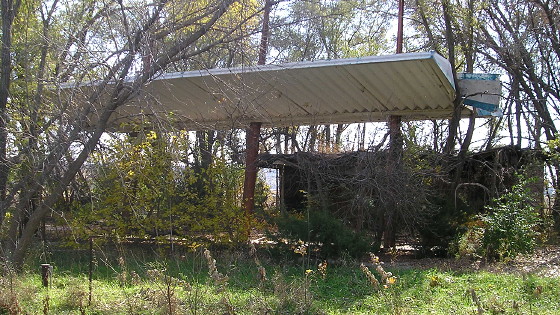 This abandoned gas station is in the southwest corner of the interchange, by the junction sign above. (10/22/14)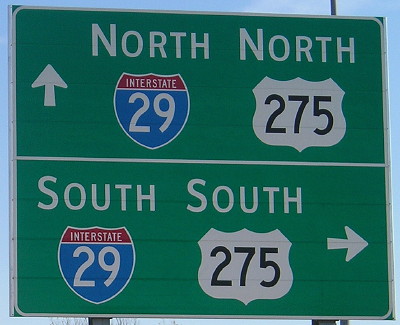 Facing east on 370 (10/22/14)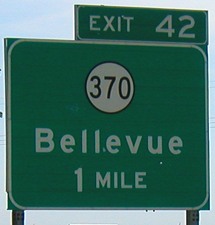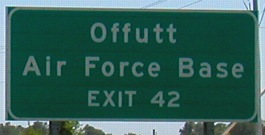 Facing south on 29 (6/9/03)
Since none of the other highways that end at I-29 have directional tags (e.g 127), why should this one? Also notice that, unlike the sign for 175, there's no indication that Bellevue is in Nebraska.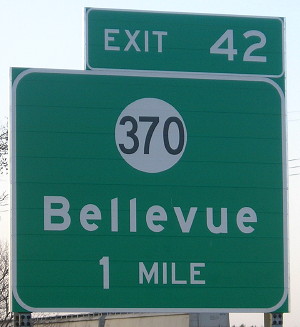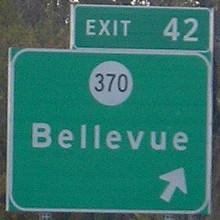 Facing south on 29 (10/22/14)
Nearly all of the signs around the IA 370 exit were replaced only a few years before they had to have the 370's popped off or covered up.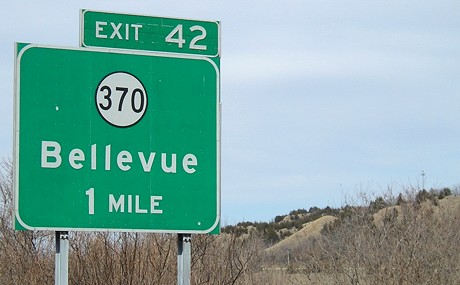 Facing north on 29, with a view of the Loess Hills (4/6/08)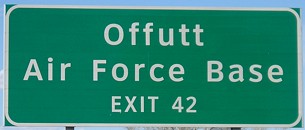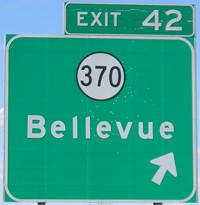 Facing north on 29 (4/6/08)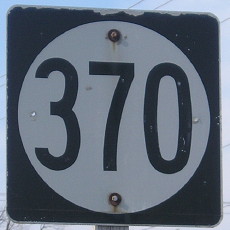 One trivial effect from IA 370's decommissioning is that it will be the last three-digit route in Iowa to have square shields. Gradually all signs in Iowa for three-digit numbers will be converted to 36x24 inches. (10/22/14)
End 935 North

Facing southwest, but heading west, on 370; facing south on 935 (6/9/03)
This county sign without a Pottawattamie counterpart was the only indication for 20 years that part of 370 east of I-29 was not yet under county control. The state dropped it in 2003.
Old EAST End: Stop sign/T intersection, US 275, Pottawattamie County

Facing east (slightly northeast here) on 370 (6/9/03)
When 275 was moved in 2003, Pottawattamie County signed it as L35 (with the name placed somewhat sloppily, I might add). As a bonus, old 370 was finally signed as County Road H10. Due to its diagonal nature, this is the only Hxx north of the county tier line. This sign now reads "End H10".

DOT-style LGS in center of above picture (4/6/08)

Replacement county LGS (10/22/14)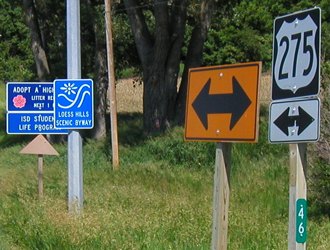 Facing northeast (6/9/03)
Old 370 is to the left. The pole still had the mile marker in July 2003 but had "L35 <->" at top.

Facing south(west) on 275; right sign now reads "Jct H10" (6/9/03)

Facing southwest (6/9/03)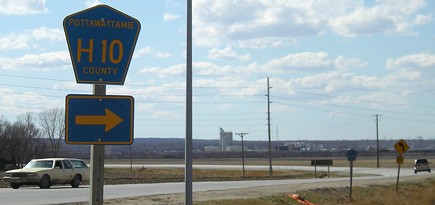 Facing southwest (4/6/08)
What you don't see in any of these intersection pictures, because it hadn't been built yet, is the Google data center (Iowa Googleplex?) that is now just to the right.

Facing north on 275 (6/9/03)
Trivia answer: Whenever there's a Nebraska Cornhuskers home football game, Memorial Stadium in Lincoln - sold out for every game since 1962 - replaces Bellevue as the third-largest city in Nebraska.
Page created 4/13/02; last updated 4/9/17