(July 1, 1920-June 14, 1986)
WEST End: Stop sign, IA 14, Grundy County
Detailed maps of the historic routes of IA 57 and 58 are here.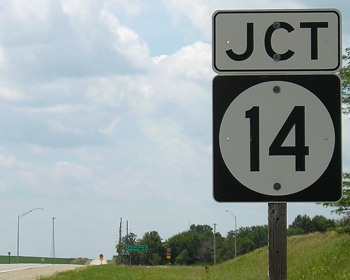 Facing west on 57, then US 20, later IA 263, now D19 (7/15/07)
Highway 57 has always been in Grundy County in some way, shape, or form. It's just that those forms have changed a bit since 1920. The route 57 followed on June 13, 1986, the day before the final segment of the US 20 freeway opened in Black Hawk County and the routes were swapped, was the easternmost portion of the original route, with only the seven shared miles with IA 14 being the main difference 66 years apart.

Facing southwest from the same spot above (6/24/02)
As I was taking pictures here, some guys watching me asked what I was doing. After I explained, they offered a new piece of information: Before the route swap, there was a northbound-to-eastbound curve. It would have been much like that of the current west end of IA 212, only turned around. This would fit with the original 1920 routing, since 57 came up with 14 from Grundy Center before diverging to Cedar Falls here.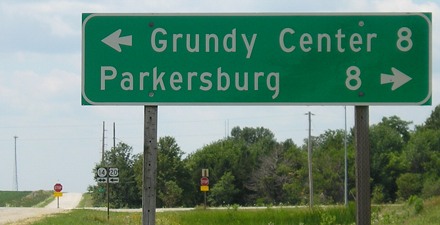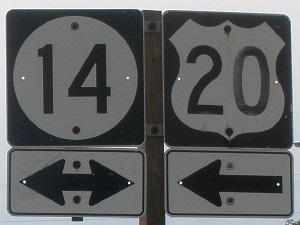 Facing west past the "Jct 14" sign (7/15/07 and 6/3/14)

Facing south on 14/20 (6/24/02)
The new interchange with US 20 is in the background. (Of course, when 57 ended here, this was just 14, just like it is now.)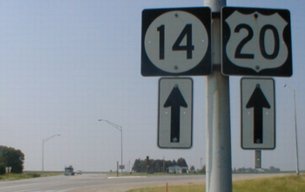 Facing north on 14/20 (6/24/02)
EAST End: Stoplight, Old US 20/First St., Cedar Falls, Black Hawk County
Detailed maps of the historic routes of IA 57 and 58 in the Waterloo/Cedar Falls area are on this page.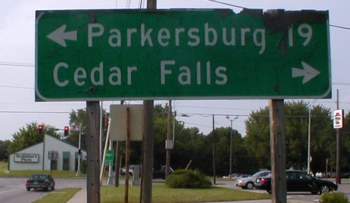 Facing north on Hudson Road, but heading east on 57 (6/24/02)
This LGS was still at the intersection in June 2002, and was probably at least 20 years old. For some odd reason, Cedar Falls keeps getting signed on LGSs even when you're inside the city; in this case, you've driven past UNI and some subdivisions. The sign was replaced by November 2003, and "Jct 57" and "57 <->" signs added, but Cedar Falls is still on the sign. Go figure.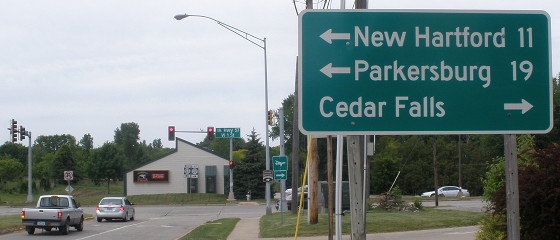 Facing north on Hudson Road (6/3/14)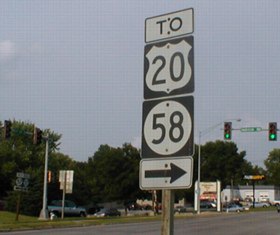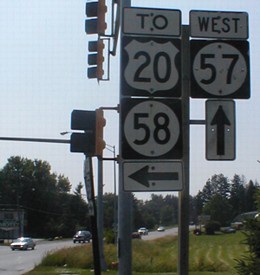 Facing east on old 20 / Facing west on old 20 (both 6/24/02)
The picture on the right is the shield assembly with its back to us on the left. Both show a redundant "West 57/East 57" assembly under the NB stoplight. Travel south long enough and you will be on 58.
(Written in 2002:) Just west of this intersection, barely visible on the left side of the right picture, is a local (non-chain) motel, a testament to the time when US highways ruled the country and this was 20. Local motels are also on pieces of old US 218/V14 north of Cedar Falls and old 218/La Porte Rd. between Mitchell Ave. and San Marnan Drive in Waterloo. (And there's also a long string of them along old 30 on the south side of Marshalltown.) An Amoco near the motel is now a full BP.
Since I wrote the above paragraph, the motel has been torn down and 57 has been five-laned (center turning lane) west of this point.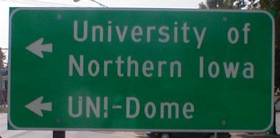 Facing west, past the Subway sign in the above left picture (6/24/02)
All three state universities are on various LGSs and BGSs in their areas.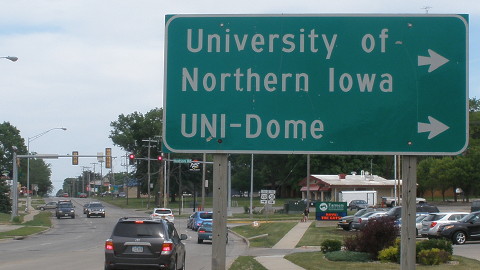 Facing east on 1st Street/old 20/present 57 (6/3/14)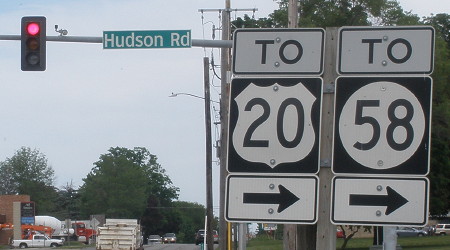 Facing east on 1st Street/old 20/present 57 (6/3/14)

Facing south at the "West 57/East 57" assembly (6/24/02)
Although we are facing south, the white car would be heading west on 57. The manner of extension and truncation for highways 57 and 58 resulted in an odd little "bump" at University Avenue and Hudson Road; each highway turned from one street to the other. It happened first in 1956, for reasons as yet unknown. (Possibly because the DOT wanted to turn over part of Main Street to Cedar Falls because 218 had already been rerouted, and that way it wasn't going back west while heading east.)
A final note: Although the swap did not occur until the middle of 1986 because of weather conditions affecting construction, the 1986 map does show the routes swapped, with the Parkersburg-Waterloo route a thinner "unmarked primary" line, probably as either an interim map marking or a mistake.
To the current IA 57 West ends / To the current IA 57 East end / To old IA 57 East ends
Page created 9/28/02; last updated 1/16/15