Bowl projections have placed Iowa State in games from coast to coast, against a variety of teams. Among them are 6-6 Big Ten teams Illinois, Northwestern, Ohio State, and Purdue. According to the Iowa State media guide, Ohio State and Purdue have never been among the Cyclones' opponents. If you look elsewhere, though, that might not exactly be true.
In mid-September 1895, Grover Cleveland was president and the US flag had 44 stars. The Iowa State College football team had just returned from its twelfth game ever — and first outside the state of Iowa — against Butte Athletic Club in Montana.
The next game, at Northwestern, would become THE game that resulted in the team being dubbed the Cyclones.
But first, there was another game. Or was there?
Here's what the ISU media guide has for 1895: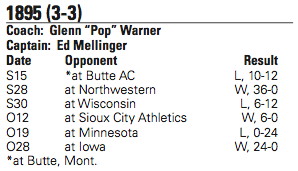 Looks pretty simple.* But if you look up college football databases online, they tell a different story. The College Football Data Warehouse has an entry for Iowa State on Sept. 26, 1895 (slightly reformatted): "L Purdue (IN) West Lafayette, IN 0-1 Iowa St. Forfeits". This site gives ISU a 3-4 record for the year.
Here's what comes up from Stassen's Opponent-vs-Opponent Records (notice that this is credited as 6-0 for Purdue instead of 1-0):

Last but not least, Purdue considers Iowa State a historical opponent, and in its media guide also has a 6-0 score, with win-by-forfeit:

The CFB Data Warehouse, the site that listed the 1-0 forfeit, also figures one more TOTAL game played for Iowa State through 2010, 1128, compared to the 1127 noted by BOTH Iowa State and the NCAA. This one could be that discrepancy.
The game in West Lafayette was to be/would have been played two days before a game in Evanston, and four days before a game in Madison. Had Iowa State planned a "barnstorming" tour of sorts, with three games in six days, but ended up playing only the last two?
The two primary sources I have looked up, the weekly Ames Intelligencer and daily Iowa State Register, say nothing about a game at Purdue or plans to have one. In fact, according to the Sept. 26 Intelligencer, the Iowa State College football team was still in Ames that day and leaving for Chicago the next.
If a game had been scheduled, it had been called off by no later than Sept. 19, when the Intelligencer article about the game in Montana ended by saying the team was going to Chicago next. This may be why Iowa State (and thus the NCAA, which didn't exist in 1895) would consider this alleged Purdue game to be a cancellation, while Purdue may view it as a forfeit.
The Intelligencer article about the Montana game has one more surprise in it. I'll go into that in a later post.
*UPDATE: Both the Intelligencer and the Wisconsin media guide say Wisconsin won 28-6. Disputed scores again?