Buried in the bid lettings for August 2017 was a sign contract mostly centered around the IA 100 interchange with I-380. There's a significant difference in the new signs — Cedar Rapids has been replaced with Iowa City for the southbound control city.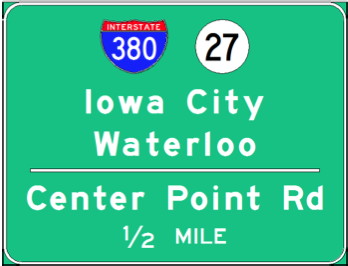 This makes sense because Collins Road is within the Cedar Rapids city limits. I wonder if it would have made more sense, though, to use "Airport" instead. This will be the farthest north mention of Iowa City related to I-380.
Most if not all of the signs on IA 100 for this interchange are original to the 1983-84 construction. They're also the largest single group still around retrofitted to include IA 27.
The complicated volleyball interchange will be signed as Exit 9, now that IA 100′s mile markers have been reset. As of Thanksgiving, these signs had not been erected, nor was an Exit 7 tab added to the Edgewood Road exit westbound. However, at least two are now up.