Sharon, Pennsylvania, Sept. 30 — Despite multiple promises skies would clear up and temps would rise, it didn't get above 64 until after 4, and no sun until 4:50 and then still mostly cloudy. [64 degrees sounds really good right now. —Ed.]
Route: I-270 around Columbus, I-71, US 30, I-77, I-76, I-277, I-76, I-80, I-680, I-76, I-376, PA 760 to PA 18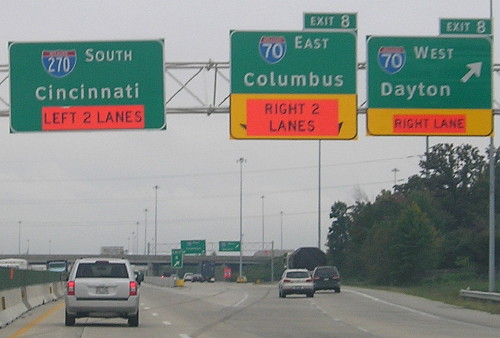 Clearview and construction on the west loop of I-270…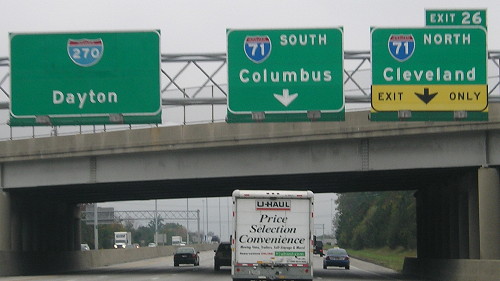 …button copy on the north side. Note the change in control cities.
Off and on rain, off and on construction. Six lanes for I-71 north of OH 95.
East of I-71, US 30 is a four-lane that wobbles north and south around the original Lincoln Highway. After the GPS sent me on a wild goose chase for food in downtown Canton, I went to the William McKinley Presidential Museum. The informative museum is not mostly about McKinley, but Stark County as a whole, with a permanent exhibit about the West Wing and temporary exhibits about White House horses and the White House's original architect. The museum also re-created a street scene from the turn of the century and various points in time 1840-1930.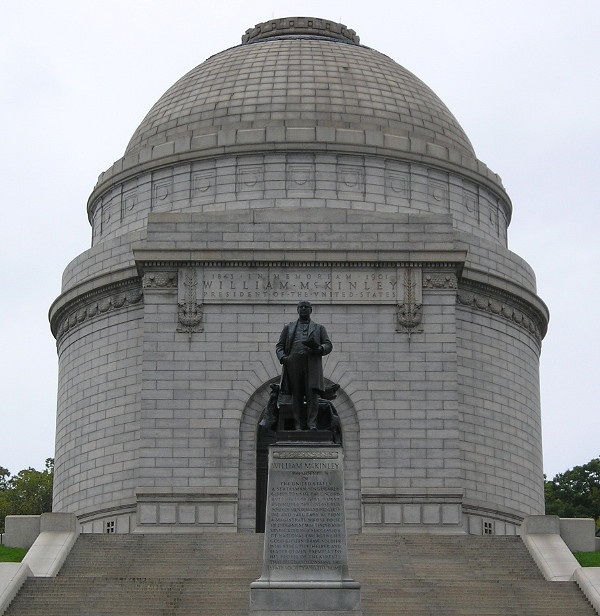 William McKinley statue and tomb in Canton.
I-77 was six lanes to Akron, and the Zips' stadium is right off OH 8. I also went to Kent State's field, less than half an hour away, and got in a bit of a traffic jam getting back onto I-76. It was after that that I saw flashes (Golden Flashes?) of sun.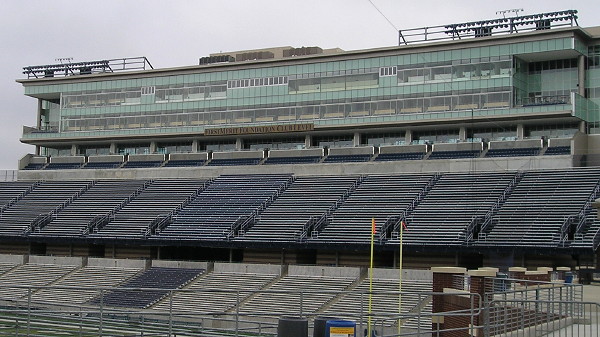 InfoCision Stadium in Akron, where ISU will play in 2019. Yes, Iowa State scheduled a home-and-home with a MAC team. (Mitigating circumstance: Navy backed out from playing ISU in 2018-19.)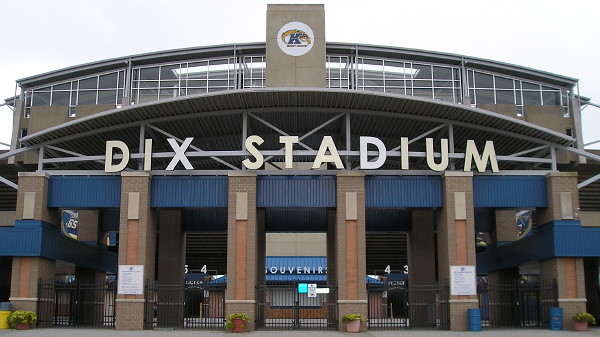 Entrance to Kent State's Dix Stadium, where ISU played in 2009 in a 2-for-1 deal.
The I-76/80 interchange is the first mention of New York, three states away, for I-80. Each interstate exits from itself as the turnpike designation switches from 80 to 76. Just after that, I-80 forks as I-680 begins. I-80 also intersects an I-76 and I-680 in another state, Nebraska, but in that case they're 344 miles apart.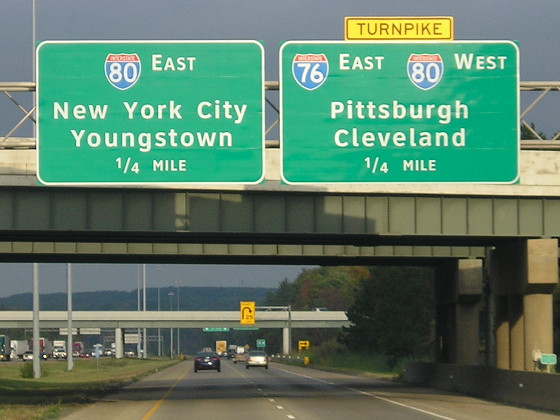 I-76 exits ahead, and the lanes I'm on become I-80. I haven't been on I-80 this far east since 2002, but would only spend 6 miles on it here. This interchange is closer to downtown Chicago than I-80′s east end by 8 miles.
I-680 drops to 55 (50?) through downtown Youngstown, lots of curves. Traffic disappeared after last exit before toll. But in order to clinch the interstate, I would have to enter the turnpike and go right into Pennsylvania. At a very nice service plaza (which had just reopened in May), I picked up a hotel coupon book that would pay off at a relatively new Hampton Inn.
It cost 50 cents to leave Ohio, but $5.25 to enter PA. WHOA. It cost $3 in 2006, when the eastbound-only-pays policy went into force.
On I-376, formerly PA 60 (there's another numbering rant to be had), I had to pay another $1.80 toll going northbound. Then on this new interstate, the speed limit dropped to 55 after passing US 224. Construction moved I-376 down to one lane about 10 miles before north end at I-80, which is where I would stop for the night.
While I had already seen historic sites related to two assassinated presidents, a third would remain out of my reach, when the federal government shutdown made the James Garfield National Historic Site unavailable the next day.
New counties so far: 27 (2 IL, 7 IN, 11 KY, 5+2 OH)