Speaking of up-and-coming locations zooming past more-established ones, the Census Bureau put out its 2015 state population estimates at the end of the year. Iowa crept upward, but it's no match for what's going on in the South and West.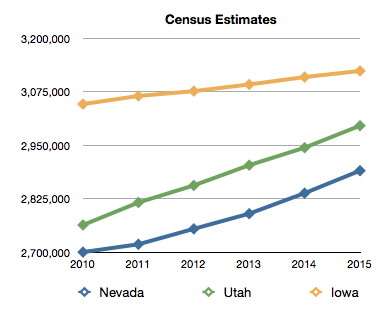 Utah, the 34th-largest state in the Union in 2010, is now estimated to be the 31st-largest, right behind Iowa. It just missed the 3 million mark, but likely passed it in the intervening six months. At their decade-so-far averages of growth, it will be a tight contest between the Beehive State and Hawkeye State in 2020.
No state has overtaken Iowa in population since Oregon (which, by the way, now has 4 million people) did it in 1989, but that's a function of there being fewer states that haven't done it already and the next ones down (Mississippi and Kansas) growing as slowly as Iowa.
Elsewhere in the Midwest, Minnesota is likely to lose the U.S. House seat it retained by the skin of its teeth in 2010 and four other Big Ten states are likely to lose one each as well.