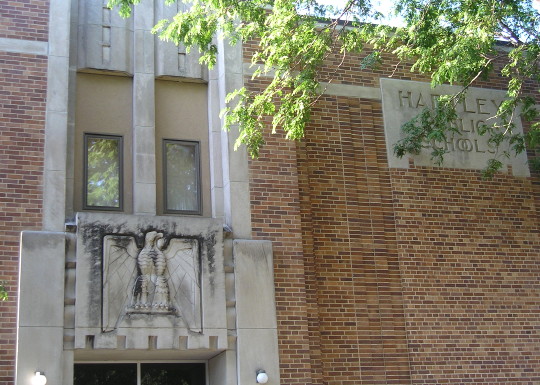 July 21, 2012: Current HMS Elementary School in Hartley, formerly Hartley High School. Once again, a beautiful Art Deco school building is facing the challenge of time, cost, and utility.
Hartley-Melvin-Sanborn has issued a challenge to its voters. If a bond issue doesn't pass April 4, the northwest Iowa school district says it will close a building, KIWA Radio reports.
But the thing is, if the bond issue passes, the elementary in Hartley will close anyway. Twice before, in 2014 when the referendum was rejected with nearly 60% voting no, and last year when it got a majority but not a supermajority (off by 47 votes, says the Sioux City Journal), closing HMS Elementary was a known component of the plan. A new elementary would be built onto the high school at a different location in Hartley. The hedging between "close a building" and "close this building" is curious because the last vote got better results in Sanborn than Hartley.