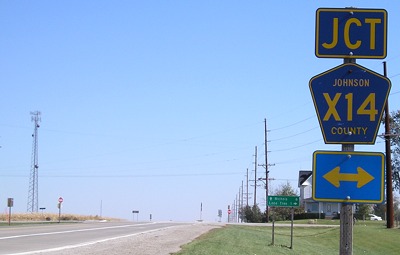 October 13, 2006: Eastbound IA 22 at old north end of IA 405.
Throughout the 45 years that the intersection of IA 22 and the road leading into Lone Tree was a state highway (IA 405), 22 was always the through road. Now, though, the Iowa DOT is going to convert the intersection into a four-way stop. That's going to happen next week.
IA 22 has one other four-way stop, with IA 1 at Kalona. I would have to do some digging to find a four-way stop with a state-maintained highway at a county road that did not involve the highway turning.