On state maps starting with the 1976 redesign, it looks like IA 395 runs as an east-west route. Because it was turned over in 1983, there was no readily available information on whether that was the case. Now, with more access to maps of the time, and DOT route logs, the answer is definitive: IA 395 was always a north-south route, connecting Melbourne to IA 330.
Melbourne had it worse off than other towns peripherally along state routes. It lost a road from the west, IA 235, in 1935 when construction on the IA 88 diagonal began. The diagonal had no direct connection to downtown Melbourne; it grazed the northwest corner.
Sometime after the diagonal (renumbered IA 64 in 1939) was finished, and before 1943, Melbourne excluded some land from the city, north of the railroad right-of-way. That enabled the town to qualify for its own spur route. The story about the loophole Melbourne and other communities exploited will be explored in a later blog post.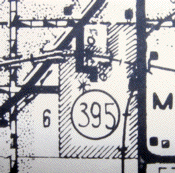 1980 Marshall County map
That's the way the route looked from 1948 until a bit after the First Great Decommissioning. The segment inside the city was turned over in 1980, but the fraction of a mile from the overpass to IA 330 remained in the state system for a few more years. With the route gone, there is no need on the state map anymore to split the mileage there, so IA 330 is an unbroken 20 miles from US 65 to US 30. However, there is one vital part of Melbourne along the diagonal — the only pit stop between Bondurant and either Albion or IA 14 (depending on your route).