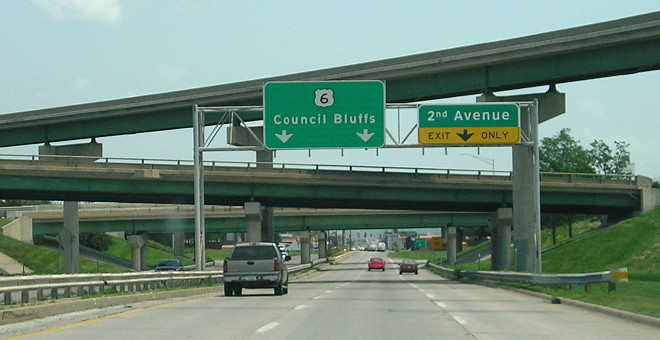 June 22, 2013: This sign's days and US 6′s straight shot through Council Bluffs appear to be numbered.
More than a decade after the Iowa DOT relieved itself of dozens of low-traffic spur highways across the state, the department has changed tactics to reduce expenses — offering cities millions of dollars to take over arterial streets.
Moves on this front include rerouting IA 92 around Muscatine and agreement to transfer jurisdiction of IA 32 and the Dubuque portion of US 52/IA 3 after completion of the Southwest Arterial. KETV reports part of US 6 in Council Bluffs is going to be next. The city of Council Bluffs already has a "corridor plan," the Omaha World-Herald reported earlier.
Further confirmation of a deal came Thursday in the Council Bluffs Daily Nonpareil, which practically in passing at the end mentioned the northernmost part of IA 192 is also going to be turned over to the city. A change could happen as soon as early next year.
West Broadway has been a part of the Iowa highway system forever. It's the Lincoln Highway's departure into Nebraska and, in addition to US 6, also carried US 75 from the creation of the US highway system until 1968. It's part of the National Highway System, making this turn of events more surprising.
The KETV story says the turnover would be "from the interstate to the viaduct," implying that the viaduct itself and Kanesville Boulevard would remain state-maintained. The Nonpareil said city work would be between 16th and 41st streets, and 16th Street is IA 192 northbound.
A turnover would mean US 6 has to be rerouted, probably along I-29 and I-80 — but what happens to the Kanesville Boulevard segment left behind? (Here's an idea: IA 106, 206, 306, and 406 are all available. Pick one.) Would 6 be moved onto South Expressway with, or replacing, IA 192 — although that segment itself may be on the way out as well? That's highly doubtful; most likely 6 would be dropped onto I-29/80 all the way around the city. My guess would be that in the far future, 6 would come in on I-480, go on I-29 southbound, then be signed onto the exit from I-29 to the I-80 outer/express lanes.
As for IA 192 being turned over, Council Bluffs should consider applying for creation of a Business Loop I-29 along its route. Business loops do not require state maintenance.
Two years ago, Council Bluffs was so desperate to have the DOT improve West Broadway that it offered to take over the northern portion of IA 192 (16th Street). Now, it looks like there's going to be that and West Broadway itself. I don't know how any future transfers of jurisdiction would avoid including the Council Bluffs viaduct, although the state may have found a way with Fort Dodge in an agreement that turned over IA 926 "excluding bridges." Not mentioned at all is anything about a South Expressway decommissioning.
There has never been an exit from southbound I-29 to eastbound Broadway, but that will change when the Council Bluffs Interstate project reaches that interchange. When that happens, though, US 6 may not be running east from the interstate.