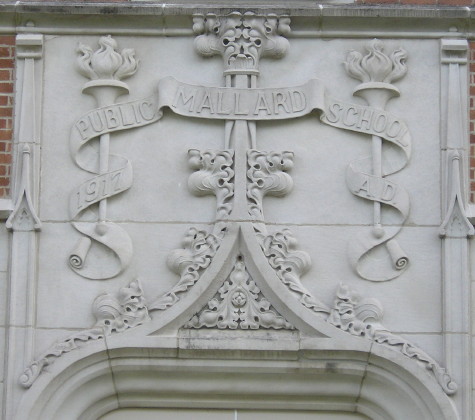 October 3, 2016: Beautiful architectural detail on the Mallard school building, which you can see is celebrating its centennial this year.
Three years ago, the West Bend-Mallard school board discussed the future of the Mallard school building. At that time, as reported in the Emmetsburg News, the board voted in favor of a motion that set triggers for the building's closure. One of them was a drop in certified enrollment below 320 — and this year, Mallard fell just below that level. This past October, the WBM board voted in favor of keeping the building open another year.
In February, the WBM district had a hearing on bids to build a new facility in West Bend. "We are not doing this to close the Mallard facility, but we're looking out into the future if we ever need to close the Mallard facility," the superintendent told the Algona Upper Des Moines. The key word there, of course, is IF. KICD Radio says the new building would be complete in April 2018….which would be just in time to close Mallard that spring. An August 2015 story from KLGA Radio said, "The building would house athletic facilities, freeing up space in the regular school structure." But any intense renovation (say, dividing the existing gym into classrooms?) would take another year at least. That website stopped updating the first day of summer 2016, apparently replaced with a new location that has a limited backlist of stories.
WBM is in one of the geographically stranger sharing arrangements in Iowa. Thanks to a quarter-mile border shared at the Des Moines River, Gilmore City-Bradgate is sending grades 7-12 to West Bend. That means West Bend covers upper grades from the Humboldt/Webster/Pocahontas county corner up to the west US 18/IA 15 intersection, including Rodman and Pioneer in addition to the towns named in the respective districts (but not Curlew, Whittemore, or Ottosen, all of which are just outside). But since Mallard is only used for WBM elementary students, that arrangement doesn't benefit it at all.
Why yes, I am pleased with myself for that headline.