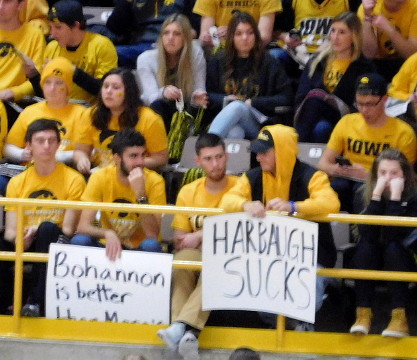 December 8, 2016: Harbaugh? Harbaugh. Harbaugh Harbaugh Harbaugh, Harbaugh Harbaugh.
I freely admit that in the two days I saw the ISU basketball teams come out flatter than flat in Carver-Hawkeye Arena, I had my concerns about the season. But they got better as things went on, and they're in the NCAA Tournament, and the Hawkeyes are not. (The Drake and UNI women are, too, outstanding achievements for both.)
The ISU men are hoping to do at least as well as last year, which would result in playing Kansas in Kansas City, assuming they can 1) beat Nevada and 2) get past a likely Purdue matchup the committee wanted last year too. The women… well, they're going to Storrs as a geographical outlier against a Syracuse team the hometown paper says is underrated. The winner gets to say they won on UConn's home court, without the technical detail of playing UConn, and then get ground into fine dust for the Huskies' next "road to the championship" video.
Today, the men play literally the last game of the day — compared with getting the second tipoff in 2015 and flaming out in time for me to watch "Jeopardy". Last year's suffocation in Chicago and Virginia's subsequent choking messed up ISU's predictable NCAA pattern, so who knows what will happen this year.