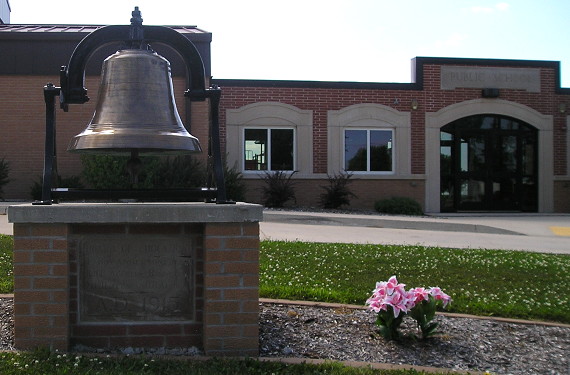 July 21, 2015: Architectural elements of Radcliffe's 1915 school building were preserved when the building was torn down. Currently, Radcliffe Elementary is used for Hubbard-Radlcliffe grades K-5.
KLMJ Radio and the Iowa Falls Times-Citizen have both reported that Eldora-New Providence and Hubbard-Radcliffe have extended their whole-grade sharing agreement through 2024. That means Iowa's current oldest traditional multi-grade bidirectional sharing agreement will reach a decade and a half. (I say "traditional" because Iowa Falls is only sending one grade to Alden, and ending that in 2017, and because the North Kossuth/Armstrong-Ringsted/Sentral sharing tripleheader has resulted in the latter two merging since.)
The Times-Citizen said there was no interest in consolidation because of "upheaval within their districts." I don't know what that refers to, but I suspect it could be because Hubbard and Radcliffe feel it's the best way to make sure both of their towns have schools (especially Radcliffe). In fact, Hubbard tore down its original building and replaced it with a new one just a couple years ago. The giant new gym, though, doesn't look like it takes the place of the 1940 one for games, since there are no bleachers.