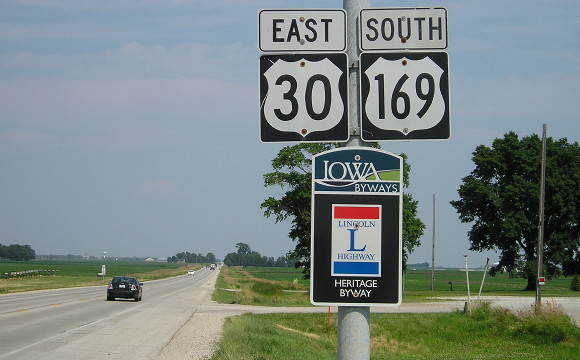 July 5, 2013: West junction of US 30 and US 169 between Ogden and Beaver. There used to be a weigh station to the right. This is 30′s last at-grade intersection with a numbered route until IA 21.
In light of this summer's go-ahead for "prioritization" of US 30 corridors in Iowa, one segment has a little leg up on the others.
In 1982, with the help of an early CAD program, the Iowa DOT drew up a right-of-way acquisition plan for the west US 169 interchange between Ogden and Beaver. It's online at the Document Portal.
The four-lane running west from its current end would have to dip southward at 169, to account for the bridge over the railroad that's just north of the current intersection. The north side of the interchange is at the current location of the intersection, with an inside loop ramp for southbound to westbound. The four-lane would rejoin current 30 (the westbound lanes) at P54 near Beaver.
The plan might require some modifications to meet current standards, but this looks like solid groundwork to move forward.