Western Illinois' website has some problems, to say the least, with its schedule formatting. In the 2012 football schedule:
Indianapolis has the Indiana logo.
Both South Dakota and South Dakota State have the USD logo.
Missouri State (formerly Southwest Missouri State until they decided they were too good to be directional) has the Missouri logo — something no one wants to be associated with at the moment.
And then this — with the wrong weblink to boot. This outrage must not stand.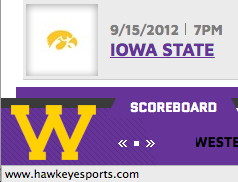 (Discovered while working on the ISU TV schedule post.)