In back-to-back games eight months apart, Iowa State went toe-to-toe with college football royalty and blinked. Or, alternatively, the college football gods noticed what was going on and engineered a snap recalibration.
December 27, 2001, Purgatory Shreveport LA
The year after Iowa State's first bowl win and only nine-win season since Oklahoma became a state, the Cyclones went 7-4. Two seasons removed from (and one season ahead of) 10-win campaigns, Alabama was 6-5. The final game for both was, as so many bowl games are, in SEC country — Iowa State's first time down there since playing at Vanderbilt in 1983.
Iowa State led the game until an Alabama touchdown with under five minutes to go. But the only thing anyone remembers happened with 51 seconds remaining, when Tony Yelk kicked a 47-yard attempt over the right upright.
Over.
The ruling on the field was "wide right." The video board at the stadium did not show the replay. Alabama 14, Iowa State 13.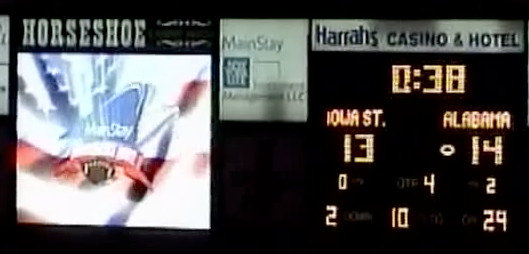 In the decade-long interregnum between Gene Stallings and Nick Saban (1997-2006), the Crimson Tide had three 10-win seasons and went 67-53 on the field (setting aside NCAA adjustments). Alabama fans unironically refer to this era as "the dark ages." After going 7-6 in Saban's first year (2007), Alabama has posted double-digit-win seasons since. Oh, and won four national championships, thanks in no small part to Iowa State, and a "missed" field goal. You might have heard a little about that.
August 24, 2002, Kansas City MO
Through a preseason-game exemption and a calendar that opened an experiment to extend the schedule, Iowa State had a 13-game regular season in 2002. The season opener was the Eddie Robinson Classic on a warm night in Arrowhead Stadium. The opponent was Florida State, which had posted double-digit-win seasons every year from 1987 to 2000, coached by legend Bobby Bowden. The Seminoles, before going 8-4 in 2001, had been in the national championship game three years in a row, winning one; another one was more than a decade in the future.
The Cyclones trailed 24-0 early in the second quarter, then started clawing back, until the Seminoles only led by 7. With 21 seconds remaining in the game, on the second-to-last play, Seneca Wallace did what he would do so well that season and take off, both metaphorically and literally, holding the ball over the pylon in the corner of the end zone.
Over.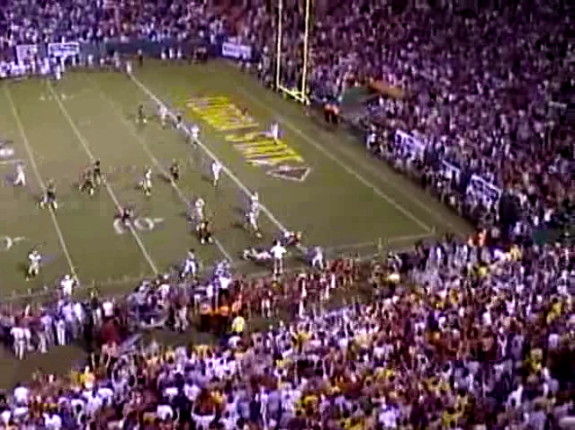 August 24, 2002: Still frame from family video of Seneca Wallace's run toward the end zone in the fourth quarter of the Iowa State-Florida State game.
Instant replay for official review in college football did not start until 2004 in the Big Ten Conference and 2005 elsewhere. For what it's worth, the official right there made the call right away, and even a touchdown would have required a good PAT and overtime. But officially, the ball was not in, and, FSU kept Wallace out of the end zone on the last play. Florida State 38, Iowa State 31.
Florida State finished the season 9-5, winning the ACC and losing the Sugar Bowl to Georgia Tech. Iowa State won its next six games, earning the first AP Top 10 ranking in program history, then suffered a loss to Oklahoma so brutal and traumatic that the Cyclones lost all but one remaining game by double digits.
From August 24, 2002, to September 1, 2017, Alabama lost 46 games and Florida State lost 55. Iowa State lost 118, more than the two of them combined. Tomorrow night, the Crimson Tide and Seminoles will play the first college football game in Atlanta's new stadium. Tomorrow night, Iowa State will be on its fourth coach since 2002 and is widely expected to finish third-to-last in a 10-team conference.
Would things be different if the ball moved just a little bit on either of those plays? Probably not. But for a fleeting time, a rising Iowa State intersected the lines of two well-known teams, and the next step was tantalizingly close.